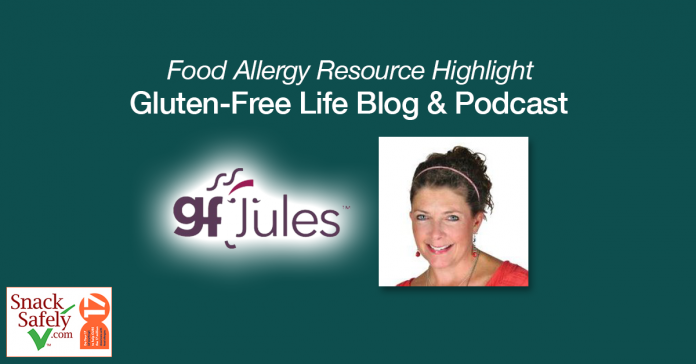 This article highlights a resource that provides inspiration and valuable services to the food allergy community. We pledged to highlight 17 such resources for End Allergies Together's 2016 #DoYour17 campaign. You can still consider sponsoring our effort with a pledge. E-A-T is underwriting all costs so 100% of your donation goes toward funding research into a cure for food allergy.
An estimated one in 133 people in the US suffer from celiac disease and the number is soaring, with 83% undiagnosed or misdiagnosed with other conditions. There is no treatment for the disease other than strict, 100% avoidance of gluten, not an easy task in today's world of processed foods.
Jules Shepard is one of the foremost authorities on gluten-free living. A celiac sufferer herself diagnosed in 1999, she pioneered her own gluten-free flour formulations in addition to founding a blog and podcast dedicated to successfully adopting and maintaining a gluten-free lifestyle.
Besides a wonderful recipe library including a separate bread category, Jules' site also provides information that helps tease the fact from fiction regarding celiac and gluten-free fads and trends.
To learn more about Jules and her Gluten-Free Life resources, visit her site at: gfjules.com.
Other food allergy resource highlights in this series: