CVS Health announced they are now offering the authorized generic version of the Adrenaclick auto-injector at all their pharmacy locations for $109.99 per two-pack.
"As a health care company focused on helping people on their path to better health, we recognized that there was an urgent need in the marketplace for a less expensive epinephrine auto-injector for patients with life-threatening allergies," said Helena Foulkes, President of CVS Pharmacy. Over the past year, nearly 150,000 people signed on to a petition asking for a lower cost epinephrine auto-injector option and millions more were active in social media searching for a solution.
"In order to address this challenge," Foulkes continued, "we have partnered with Impax to purchase their epinephrine auto-injector at a price that is lower than similar brand or authorized generic epinephrine auto-injectors. We are passing these savings along to our customers and patients, making this product available at all CVS Pharmacy locations at the lowest cash price in the market."
The price for the two-pack applies to both insured and cash-paying patients without insurance, which may be especially beneficial for those insured patients who have consumer-directed health plans and have not yet met their deductible for the plan year.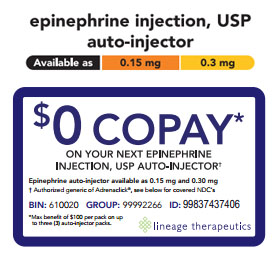 Impax also offers a $0 copay card which may defray up to $100 of the out-of-pocket cost, available by clicking here.
Keep in mind that you may need to obtain a new prescription from your prescriber to purchase the Adrenaclick generic if you currently have a prescription for another brand.