We're pleased to announce the latest update to the Safe Snack Guide and our Allergence product screening service.
The Safe Snack Guide is a catalog of over 1200 food products, all free of peanuts and tree nuts with hundreds free of the Top 8 allergens. The Guide is used by thousands of schools and tens of thousands of families nationwide to help keep allergens out of the classroom and the home.
Allergence is our interactive service that shows you precisely how these products are manufactured with respect to the 11 allergens we track: the Top 8 (peanuts, tree nuts, eggs, milk, soy, wheat, fish, crustacean shellfish) as well as sesame, mustard and gluten. All allergen information, including shared line and shared facility information you'll find nowhere else, is provided directly by our partner manufacturers, never from the label.
Aside from many new product additions from our existing partners, we've introduced products from two new members of our Manufacturer Partnership. Please welcome:
Nutracelle – Created by a mom; Nutracelle is an all-natural, peanut, tree nut and gluten-free prebiotic protein that improves gut health while keeping you full and satisfied for hours. Nutracelle's mission is to help people live healthier lives with natural, clean ingredients with no artificial flavours, additives or sweeteners that are so delicious, you'll think you're cheating.
This Bar Saves Lives – Their mission is to end childhood malnutrition worldwide. To do that, they've developed a simple giving model – they sell the best snacks so they can give the best life-saving nutrition. Every time you buy a bar, they give food aid to a child in need. One for one.
Forgetful Chef – Their products are inspired by a powerful, but simple set of ideas. They believe that snack food should be tasty but shouldn't be loaded with empty calories. They take extra effort to get the cleanest, most wholesome ingredients possible, carefully sourced from allergy friendly vendors.
With this update we also say goodbye to Wholesome Sweeteners, the parent company of SurfSweets. As we no longer have a relationship with the company, we are no longer able to recommend their products. We hope they will rejoin our partnership at a later date.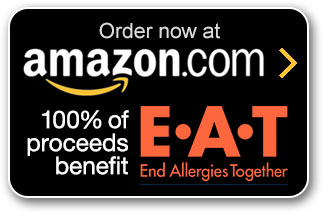 Reminder: You can now purchase many of the products listed Safe Snack Guide and Allergence from Amazon with just two clicks! All proceeds are donated to End Allergies Together to fund research into a cure for food allergy. Just click the product listing in the Safe Snack Guide or the Purchase on Amazon button in Allergence.
---
Please discard your current copy of the Guide and download the latest edition:
As always, we thank our readers and subscribers for their diligence and feedback which helps us keep the Safe Snack Guide up-to-date between product surveys. If you have not subscribed to our mailing list for updates and product advisories, we suggest you do so by completing the following form:
Subscribe to our weekly newsletter and never miss an important food allergy article! Unsubscribe at any time. We pledge never to share your address.