The ability to create custom Safe Snack Guides that list foods free of any combination of 11 allergens is proving popular with schools, scout troops, youth sports leagues and parents. The 500th guide was created yesterday, less than three weeks after the new feature was introduced.
The traditional Safe Snack Guide, which provides peanut and tree nut free options, has been the de facto standard snack list used by schools nationwide since 2011 to help keep these allergens out of the classroom. The new feature allows anyone to create a customized list of foods free from any combination of 11 allergens (peanuts, tree nuts, milk, eggs, soy, wheat, fish, crustacean shellfish, sesame, mustard and gluten) and requiring any combination of four industry certifications (kosher, gluten-free, organic and non-GMO).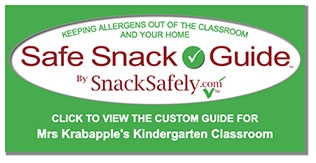 Along with the custom guide, users also receive a dedicated landing page with usage instructions, a badge for their website, and a link to create a preformatted email message to direct their audience.
Each custom guide is automatically kept up-to-date as new products are added to a database of over 2000 or their ingredients, formulations, or manufacturing processes change.
Information sourced for the Safe Snack Guide comes directly from the respective manufacturers via SnackSafely.com's proprietary platform designed to foster greater disclosure of the potential for allergen cross-contact. Manufacturers gain access to the platform by joining the SnackSafely.com Manufacturer Partnership and receive free listings in the Safe Snack Guide and Allergence product screening service in return for meeting stringent reporting requirements.
To create your own Custom Safe Snack Guides for your classroom, home, activity, or event, visit custom.snacksafely.com.
SnackSafely.com Launches Custom Safe Snack Guides for Classrooms, Activities and Events