Auvi-Q has launched a new interactive resource hub with digital tools to help families with life-threatening allergies stay prepared this school year.
New resources are released regularly and include:
Back to school checklists;
Interactive quizzes;
Customizable allergen profile cards.
Access the resource hub at www.auvi-q.com/resources.
In addition, those who sign up at www.auvi-q.com/signup receive a free downloadable life-threatening allergy tool kit.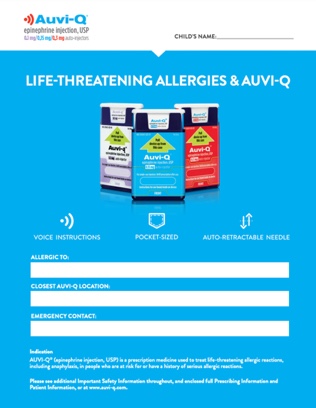 The tool kit includes:
Life-threatening Allergies Quick Reference Guide: to share with caregivers such as coaches, teachers, and counselors;
Signs and Symptoms of Anaphylaxis: to help identify allergic emergencies quickly;
Food Allergy Alert Cards: to help inform people about allergies.
---
Note of Disclosure: Auvi-Q is an advertiser with SnackSafely.com.