SnackSafely.com Manufacturer Partnership
Welcome to our growing list of partner manufacturers, each of which has committed to providing up-to-date, detailed processing information regarding the 11 allergens we track; information that goes beyond what the FDA requires be disclosed on the label and isn't available anywhere else!
Manufacturers use our proprietary platform to provide information about each of their products, including how 11 allergens (peanuts, tree nuts, milk, eggs, wheat, soy, fish, crustacean shellfish, gluten, sesame and mustard) are processed during their manufacture.
Want to know whether peanuts are processed on the same line? Whether soy is processed in the same facility? Whether a product is marketed as sesame-free? Our partner manufacturers disclose that information to us and we provide that information to you via our family of Safe Snack Guides and Allergence product screening service.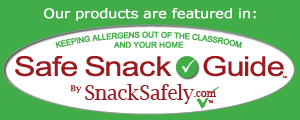 Joining our partnership and having their qualifying products listed in our publications is absolutely free to the manufacturer. Once accepted, they are authorized to display our Manufacturer Badge on their respective websites. Look for the badge when shopping for products on-line and know that the manufacturers that display it take extra care in keeping you informed.
Do you have a favorite manufacturer not listed below? Contact them and ask them to join our program! It's easy to do. Simply:
Visit their website to find their consumer support e-mail address;
Click here for a pre-formatted e-mail request and be sure enter that address before sending.
Are you a manufacturer interested in joining us? Contact us by clicking here and we'll send you all the information you need to get started.
Featured Partners
Participating Partners