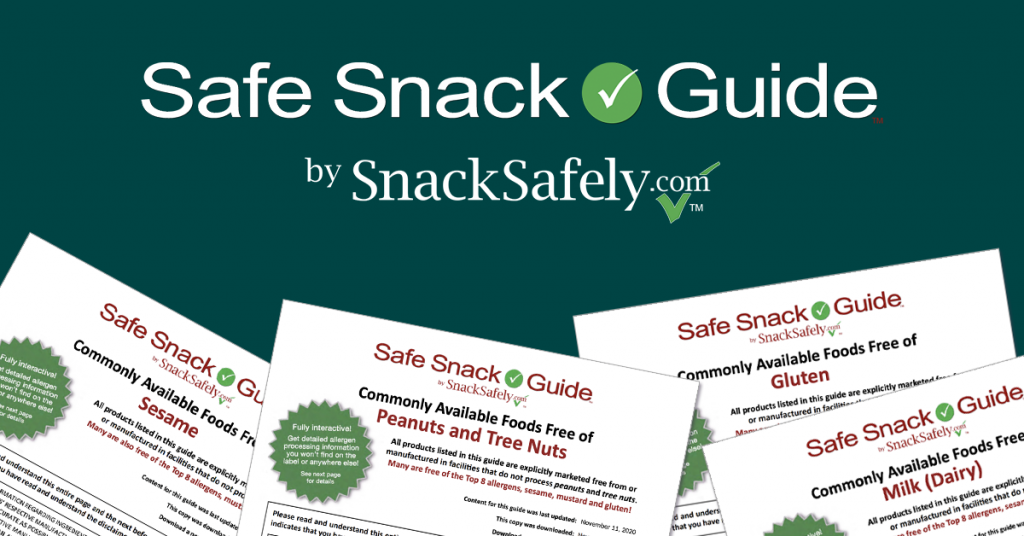 The guides used by thousands of schools and tens of thousands of families nationwide to help keep allergens out of the classroom and the home
Each edition of the Safe Snack Guide is a catalog of commonly available foods (not just snacks!) free of specific allergens that are updated every 4-6 weeks throughout the year.
In addition to helping families, the Guides serve as resources for schools, youth sports leagues, scouting groups, clubs, parties, play dates, and other events where people with food allergies, celiac disease or other food restrictions must be accommodated.
Current Editions
Peanut and Tree Nut-Free Foods — Our "Traditional" Guide
Milk (Dairy) Free Foods New!
Gluten-Free Foods New!
Sesame-Free Foods New!
Custom Guide — Create your own guide customized to exclude any combination of the 11 allergens we track: peanuts, tree nuts, milk, eggs, soy, wheat, fish, crustacean shellfish, sesame, mustard, and gluten.
Why the Guides?
While US regulations require manufacturers to label when any of the Top 9 allergens are ingredients of a product, they do not have to disclose when those allergens are processed in the same line or facility as those products are manufactured. Warnings like Manufactured in a facility that also processes peanuts and May contain traces of soy are entirely voluntary; some manufacturers include them, some don't, and some will warn for one allergen and not another.
Even a trace of an allergen can cause life-threatening reactions, hence the need for well-researched information that goes beyond what is required on the label: our guides.
How We Source Information for the Guides
SnackSafely.com partners with 180+ responsible manufacturers who agree to use our proprietary platform to disclose detailed processing information for each product in exchange for free listings in our guides and our interactive Allergence product screening service. We then curate that product data for completeness and accuracy and use it to provide you with information you won't find on the label or anywhere else.
How the Guides are Organized
Each guide is organized into 40+ categories of foods to help you find the products you're looking for. Some example categories are:
Chocolate
Candy
Ice Cream
Cookies
Cake & Muffins
Baking Mixes & Flour
Baking Chocolate
Chips
Pretzels
Fruit Snacks
Vegetable Snacks
Cheese Snacks
Rice, Grains & Seeds
Herb & Spices
Peanut Butter Alternatives
Nutrition Bars
Granola
Pasta
Prepared Foods
Bread, Bagels & Rolls
Each product entry is preceded by a symbol indicating whether the product is free of the designated allergens alone or also free of the Top 8 allergens.
The Guides are Interactive!
You can click any product entry and see the corresponding Allergence page for that product, which includes product images and descriptions, retail availability, third-party certifications (kosher, organic, gluten-free, non-GMO) as well as precise and detailed information for how that product is manufactured with respect to the 11 allergens we track.
Part of Your School's Policy to Prevent Anaphylaxis
Many schools don't have policies in place regarding food in the classroom leaving children with food allergies at risk of contact reactions including life-threatening anaphylaxis.
When food is consumed in the classroom for snack time, lunch, or celebrations, we encourage schools to adopt the Guide as part of their respective allergen exclusion policies. Thousands of schools do so by linking to our guides on their websites or in email communications to families.
Click to Select Your Guide: