School's almost out, a perfect time to update to the Safe Snack Guide and our Allergence product screening service before the kids are off to camp and summer activities.
Aside from introducing many new products from our existing partnership members, please welcome:

— A family-owned and operated artisan maker of high-quality, organic and conventional tortilla chips, corn chips and artisan crackers. Committed to sourcing the finest ingredients available, all of their products are made from stone ground non-GMO corn, contain no additives or preservatives and are certified gluten-free.

– The company specializes in delicious, no-shell gourmet pumpkin seeds that are small batch dry roasted, free of the Top 8 allergens as well as sesame and mustard, gluten free, vegan, and non-GMO verified.

— started by a food allergy mom frustrated with the lack of safe, healthy snack options for her son, who has severe food allergies. All of Kip's products are vegan and free of the Top 8 allergens, as well as free from sunflower, sesame, and preservatives. Kip's products are kosher and certified gluten free. 
Also, please note that the Late July tortilla and corn chips are now manufactured on a line that also processes coconut which is classified by the FDA as a tree nut. As such, these products have been removed from the Safe Snack Guide but are still listed in Allergence.
We also say goodbye to Rich's Ice Cream as the company has fallen out of compliance with our reporting requirements. As we no longer have a relationship with the company and as such no longer have insight into their manufacturing practices, we can no longer recommend their products.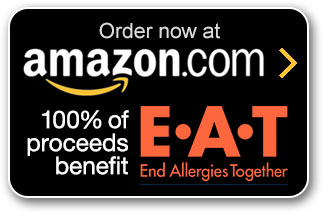 Remember, you can now purchase many of the products listed Safe Snack Guide and Allergence from Amazon with just two clicks! All proceeds are donated to End Allergies Together to fund research into a cure for food allergy. Just click the product listing in the Safe Snack Guide or the Purchase on Amazon button in Allergence!
---
Please discard your current copy of the Guide and download the latest edition:
As always, we thank our readers and subscribers for their diligence and feedback which helps us keep the Safe Snack Guide up-to-date between product surveys. If you have not subscribed to our mailing list for updates and product advisories, we suggest you do so by completing the following form:
Subscribe to our weekly newsletter and never miss an important food allergy article! Unsubscribe at any time. We pledge never to share your address.