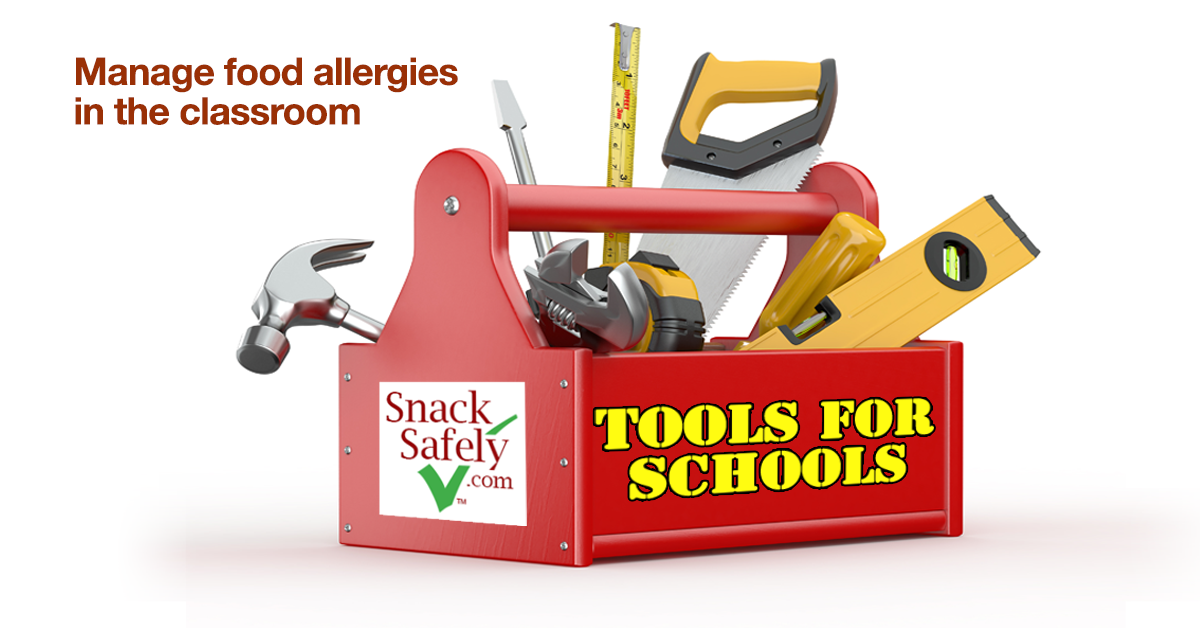 Everything a teacher, school nurse, principal or PTA group needs to implement a successful allergy-friendly classroom policy
An estimated 5.6 million children nationwide are coping with food allergies, an average of two allergic students for every classroom.
A serious reaction to a food or insect venom known as anaphylaxis can be life-threatening if not treated immediately with epinephrine, the only drug that can halt the progression of anaphylaxis.
We provide many resources for teachers, school nurses, PTA members, and parents to help them accommodate students by preventing reactions in the classroom and cafeteria, understanding the telltale signs of anaphylaxis, and learning how to administer the full range of epinephrine auto-injectors available in the US.
Please feel free to share this page with family, friends, colleagues, and your school administration.
Guide to Auto-injectors — Epinephrine auto-injectors, often carried by food-allergic students, come in varying models from different manufacturers. Knowing how to administer a student's auto-injector in an emergency may prove the difference between life and death. This is a summary of all devices available in the US, complete with videos for how to administer properly administer them;
Emergency Action Plan Template — A must-have on file for every student with food allergies, the template is completed and signed by the parent and the child's physician.  It gives precise instructions regarding what to do if a child has accidentally ingested a known allergen or is showing signs of an allergic reaction.
Epinephrine First, Period — The American Academy of Pediatrics dispells many of the rumors you may have heard about anaphylaxis;
How to Determine Whether it's Anaphylaxis — In the absence of an Emergency Action Plan (above), which we believe every student with food allergies should have on file, here is a simple guide for determining whether a student is suffering an anaphylactic reaction;
Two excellent resources from the American Academy of Allergy, Asthma & Immunology are available to train school nurses, teachers, and staff how to recognize and respond to anaphylactic and asthmatic emergencies.
Safe Snack Guide — Our family of guides that provide an extensive list of commonly available snacks, all free of specific allergens, with many free of the Top 9 and gluten. Well-researched directly with manufacturers and frequently updated, the Guide provides parents with many snack options that comply with specific classroom allergen exclusion policies. We also have a customizable Safe Snack Guide where you can specify any combination of 11 allergens to exclude, and we even provide a landing page and badge for your school or classroom;
Nut-Free Flyers for Your School and Classroom — These graphics, to be printed and posted at the entry to the school or specific classrooms, warn of a nut-free environment in clear, unambiguous language;
Open Letter to Parents — Our non-confrontational letter to parents notifying them of an allergen-exclusion classroom policy. Written from the point of view of a parent of a child with food allergies. It explains why the policy is necessary and provides an effective strategy for transitioning a child from peanut butter to a safer alternative. Used by many schools across the country, you are welcome to tailor this letter to your specific allergens and circumstances;
School Map — An interactive map of thousands of schools nationwide that rely on the Safe Snack Guide to help enforce a classroom allergen exclusion policy. Add your school to our map; it's a great way to tell your community that your school cares about protecting your students from anaphylaxis and will help parents of children with food allergies identify your school as accommodating;
Take 2 Campaign — A set of flyers reminding children with food allergies, their parents, and caregivers to have two epinephrine auto-injectors on-hand, everywhere, every time.
Subscribe to Our Newsletter — Stay up-to-date on everything food allergy by subscribing to our weekly newsletter. We pledge NEVER to share your personal information with anyone, period, full stop.