We made a list and checked it twice! The Holiday 2019 Edition of the Safe Snack Guide is here with an entire section devoted to allergy-friendly Christmas and Chanukkah treats! All are peanut and tree nut free with an entire section devoted to allergy-friendly goodies for your special someone!
Whether you're searching for seasonal gifts, festive products to serve at your home or classroom celebration, or baking supplies to make your own holiday creation, the Safe Snack Guide and the Allergence product screening service are your go-to resources!
With this issue, we're happy to announce the addition of many new products from current members of our Manufacturer Partnership (120+ companies strong!) as well as a new member. Please welcome:

Hilary's — The creator of convenient and culinary foods that are made from real ingredients and are free from common allergens. Helping to heal the American diet by bringing these foods to all people who seek tasty, nourishing cuisine, their products forge innovative culinary paths and disrupt the status quo.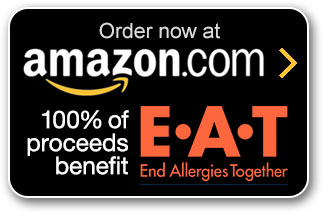 You can purchase many of the products listed in the Safe Snack Guide and Allergence from Amazon with just two clicks! All proceeds are donated to End Allergies Together to fund research into a cure for food allergy. Just click the product listing in the Safe Snack Guide or the Purchase on Amazon button in Allergence.
---
Please discard your current copy of the Guide and download the latest revision:
Once again, we thank our readers and subscribers for their diligence and feedback which helps us keep the Safe Snack Guide up-to-date. If you have not subscribed to our mailing list for updates and product advisories, we suggest you do so by completing the following form:
Subscribe to our weekly newsletter and never miss an important food allergy article! Unsubscribe at any time. We pledge never to share your address.
He Sees You Reading Labels, He Knows When You Have Your Epinephrine On Hand!