As we reported Tuesday, Spectrum Laboratory Products issued a worldwide recall of certain lots of their powdered epinephrine used to manufacture finished dose products that treat a variety of life-threatening conditions including anaphylaxis.
Although some number of hospitals, clinics, and physicians' offices will no doubt be affected, we reached out to the manufacturers of auto-injectors marketed in the US — Viatris (formerly Mylan for EpiPen, EpiPen Jr), Kaléo (Auvi-Q), Amneal (Adrenaclick generic), Teva (EpiPen generic) and Adamis (Symjepi) — to find out if their products were affected by the recall.
Caryn Foster Durham, Senior Director, Corporate Communications for Kaléo — states the Auvi-Q family of auto-injectors is NOT affected by the recall: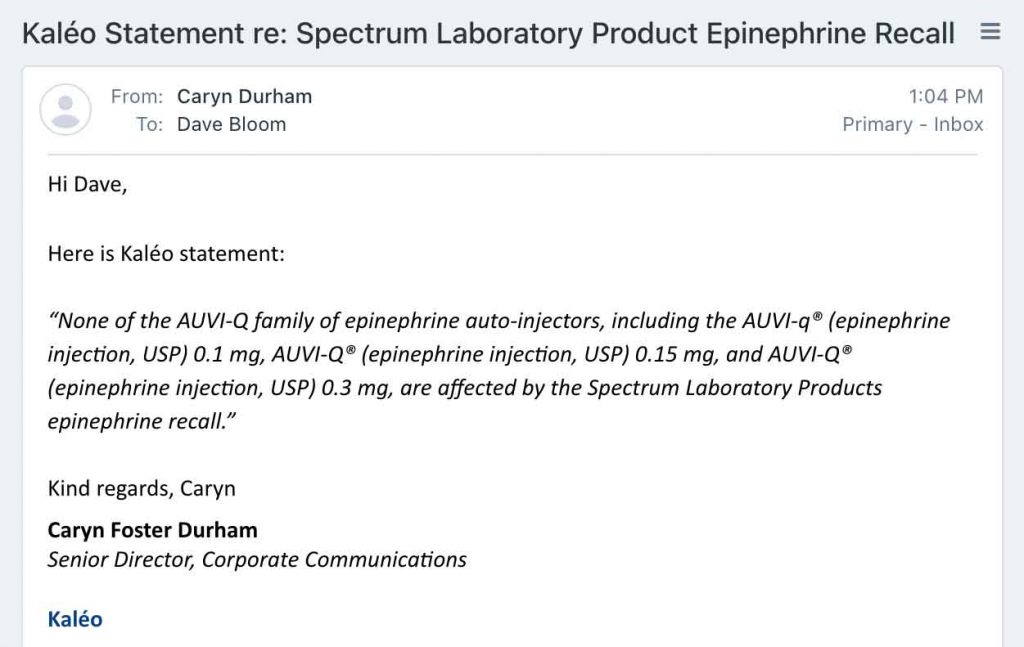 Our thanks to Ms Durham for her prompt reply which will put the minds of many owners of Auvi-Q at ease.
Click here to see Viatris' response regarding EpiPen.
We will post the statements of the remaining manufacturers as we receive them.