There's little we know about Alyssa West other than that she graduated from Huntington Christian School, was a cheerleader at Huntington Beach High, and had a severe nut allergy. It was that allergy that would take her life.
There are no credible news reports about what happened to Aly, so all we have to rely on is social media like this post on GoFundMe:
Hello Aly's Friends and Loved Ones,

It is with a heavy heart that we are sharing the news about the unfortunate circumstances that Alyssa "Aly" West—a beloved daughter, niece, cousin, granddaughter and trusted friend—suffered on Saturday, January 28, 2023. While attending her high school's winter formal dance with many of her friends, Aly suffered a severe allergic reaction. CPR was administered and she was transported to a local hospital and ultimately transferred to Children's Hospital of Orange County. Aly was put on life support and continues to be surrounded by her ever-loving Mom, Liza, and Dad, Jake, along with many aunts, uncles and cousins by her side. Vigils have been held, tears have been shed and prayers have been said. Please pray for the vibrant, loving and caring soul we all know as Aly.

She lights up every room she enters and always lends a caring hand with a smile on her face. Aly is a cheer captain, a dancer, a Model United Nations debater and an excellent student. Aly is a true leader and she has such a bright future ahead. Please pray.

As you can imagine, Aly's family was not at all prepared for the financial burden that comes along with such an accident. With your donation you can help provide for her medical bills, and for her and her parent's comfort and stability.

Thank you, in advance, for all of your love and support.
On Wednesday, the post was followed by an update by Aly's parents informing the community that their daughter had passed:
Message from Aly's Parents:

It is with deep sadness that we announce the passing of our beautiful and loving daughter, Aly, as she went home to be with our heavenly Father. Aly was the center of our world and the light of our lives. We are lost without her.

If anything becomes of Aly's tragic nut allergic reaction, the one thing she would want is for everyone to come together, regardless of their differences, and treat each other with grace and kindness. Her short time on this planet touched so many. Please help us grieve by remembering to love like Aly—that is, to help each other rise up, and make a difference in this world. Our Aly was truly special.

Thank you for all of your love and support. Please never forget our very special baby, Aly.

Liza & Jake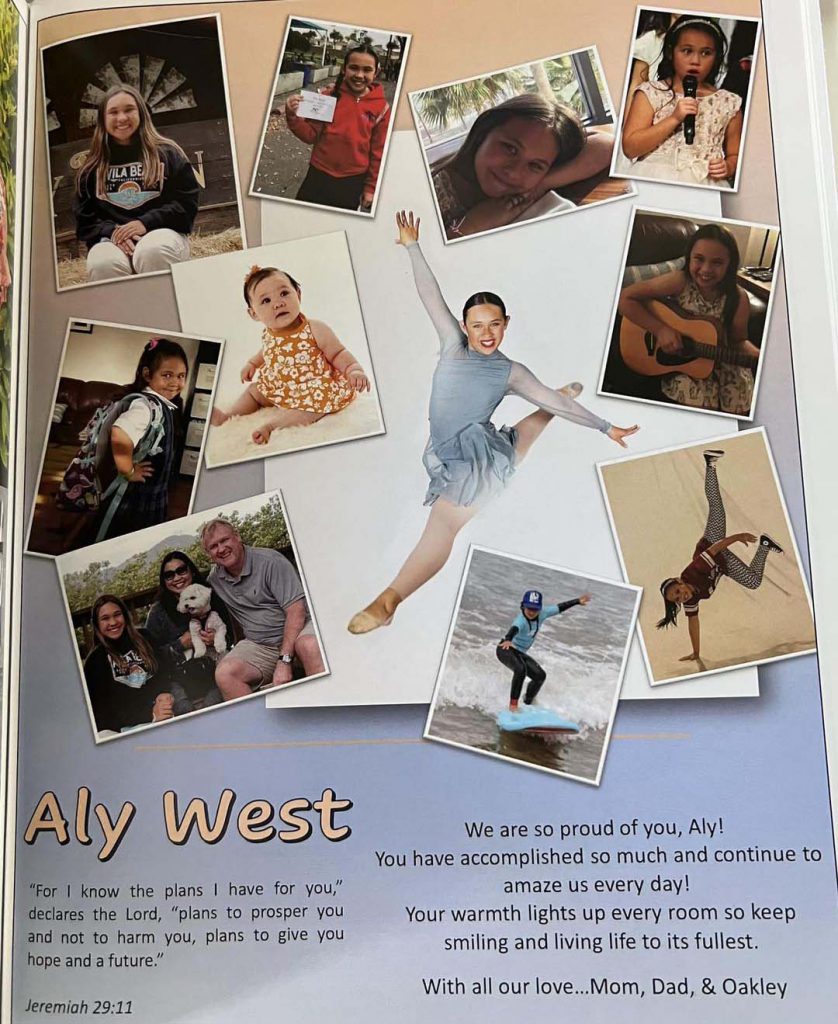 Sometime later that day, Huntington Christian School broke the news to their community about Aly's passing. It reads:
By now you have heard about our precious 2022 HCS graduate, Aly West , and the severe anaphylactic allergic reaction she had on Saturday evening. Aly has been on life support at CHOC since that time. Unfortunately, she went too long without oxygen, and her body was not able to sustain life. Her parents informed us that she passed away peacefully this evening, and "went home to be with her Heavenly Father."

It was important to Aly's family that this news not be shared with the community until students were at home with their families – able to comfort one another.

Our hearts are broken and it is hard to know how to process such a tragedy. We know this will definitely impact many of our students and staff for quite a while. We will have a counselor available for our staff in morning devotions, and the First Christian Church Counseling Center is available to those who are looking for additional counseling resources for their family: [Redacted]

We ask that you would continue to pray for the West family. We know they trust that Aly is sharing that big smile of hers with everyone in heaven, but the pain of losing a child is overwhelming. As the HCS community, we want to help carry this family through a time when they are shattered.

The West family has a Go Fund Me account to help cover medical costs. If you would like to donate to this fund: https://www.gofundme.com/f/aly-west

This Friday, February 3rd the entire HCS student body will be taking a photo together to honor Aly and her family. Aly's favorite color is purple, so students may choose to wear shirts in purple or white on Friday. We will take a photo in the shape of a giant heart!

Romans 12:15 "Rejoice with those who rejoice; mourn with those who mourn."

Psalm 34:18 "The Lord is near to the brokenhearted and saves the crushed in spirit."

Psalm 73:26 "My flesh and my heart may fail: but God is the strength of my heart, and my portion forever."

Romans 8:38-39 "For I am convinced that neither death nor life, nor angels nor principalities, nor things present nor things to come, nor powers, nor height nor depth, nor any other created thing will be able to separate us from the love of God that is in Jesus Christ our Lord."
---
Our hearts go out to the West family who today mourn the loss of their daughter after a tragic accident. We can only imagine their heartbreak as they experience what every food allergy parent fears most, sending their child out and not having them return. The food allergy community grieves with them and we wish them strength in the days to come.
This is the third report of a young person succumbing to anaphylaxis in two weeks. We, as a community, must do everything we can to stem the tide of deaths of people who are guilty of nothing more than simply going about living their lives.
We don't know the specific circumstances of this tragedy, but we do know that every person diagnosed with a food allergy is at risk of developing life-threatening anaphylaxis, a severe reaction to a food, drug, insect venom, or environmental substance.
There is only one drug that can halt and reverse the progression of anaphylaxis — epinephrine — but it must be administered in a timely fashion to be effective. It's a life preserver, but it can't help if it's left at home sitting in the medicine cabinet.
We know you're as sick of us saying it as we are of repeating it, but please heed this message:
Everyone that has been prescribed epinephrine MUST take two auto-injectors along everywhere, every time, administer the drug when they first suspect anaphylaxis, then call emergency services.
If you carry epinephrine or love someone who does, please take a few minutes to review the procedures for your specific brand of auto-injector and share the video with friends and family so they can be prepared to respond in an emergency.
We must do everything we can to stop this tide of anaphylactic deaths.