We're pleased to announce the latest update to the Safe Snack Guide and our Allergence product screening service.
The Safe Snack Guide is a catalog of over 1200 food products, all free of peanuts and tree nuts with hundreds free of the Top 8 allergens. The Guide is used by thousands of schools and tens of thousands of families nationwide to help keep allergens out of the classroom and the home.
Allergence is our interactive service that shows you precisely how these products are manufactured with respect to the 11 allergens we track: the Top 8 (peanuts, tree nuts, eggs, milk, soy, wheat, fish, crustacean shellfish) as well as sesame, mustard and gluten. All allergen information, including shared line and shared facility information you'll find nowhere else, is provided directly by our partner manufacturers, never from the label.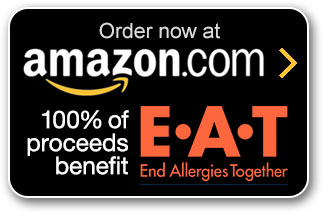 You can now purchase many of the products listed Safe Snack Guide and Allergence from Amazon with just two clicks! All proceeds are donated to
End Allergies Together
to fund research into a cure for food allergy. Just click the product listing in the Safe Snack Guide or the
Purchase on Amazon
button in Allergence.
Aside from many new product additions from our existing partners, we've introduced products from two new members of our Manufacturer Partnership. Please welcome:
Libre Naturals – Originally founded as Nonuttin' Foods in 2002 by Alana Elliott while dealing with her family's 6 food allergies, Libre Naturals' granola bars, granolas, oatmeal cups and economical bulk products use only the best quality, natural, non-GMO ngredients. As a family company that truly understands life-threatening food allergies, they'd be honored to earn your trust.
Treasure Mills – Dedicated to providing delicious and healthy snack foods, not just for kids but for the whole family, including those with allergen sensitivities. Treasure Mills proudly manufactures health-conscious baked goods, operating in a tree nut- and peanut-free facility. Treasure Mills' School Safe® snack foods are healthy snacks  conveniently packaged so your kids will love finding them in their lunches and you'll love them any time you're on the go.
---
Please discard your current copy of the Guide and download the latest edition:
As always, we thank our readers and subscribers for their diligence and feedback which helps us keep the Safe Snack Guide up-to-date between product surveys. If you have not subscribed to our mailing list for updates and product advisories, we suggest you do so by completing the following form:
Subscribe to our weekly newsletter and never miss an important food allergy article! Unsubscribe at any time. We pledge never to share your address.