On October 14, 2019, the Food and Drug Administration (FDA) announced a recall for undeclared fish in 5oz packages of Furikake Popcorn. Here is an excerpt from the FDA's announcement:
Samurai, Inc. of Honolulu, Hawaii is conducting a voluntary recall on 16,660 packages of Furikake Popcorn, because it may contain undeclared Fish. People who have an allergy or severe sensitivity to fish run the risk of serious or life-threatening allergic reaction if they consume these products.
Fish in popcorn? How can that be?
The announcement goes on to specify:
The recall was initiated after it was discovered that product containing fish was distributed in packaging that did not reveal the presence of the allergen. Subsequent investigation indicates the problem was caused by a breakdown in the company's Food Safety Allergen Control Program.
Samurai Inc manufactures several products in their facility. Some contain fish, one of the FDA's Top 8 allergens that must be declared only if it is an ingredient of the product. In this case, the cross-contact was caused by "a breakdown in the company's food safety allergen control program", meaning something went wrong during the segregation of their ingredients or the cleaning of their machinery.
That's why it's of critical importance that individuals coping with food allergies understand how a product is manufactured with regard to their allergens of concern. Are tree nuts processed in the same facility? Is milk processed in the same line?
Unfortunately, the FDA does not require shared line and facility information to be disclosed. Warnings on the label such as "Manufactured in a facility that also processes…" and "May contain…" are entirely voluntary and it is up to the manufacturer to decide how to word them and when to display them.
Here is a graphic summarizing the limitations of those warnings: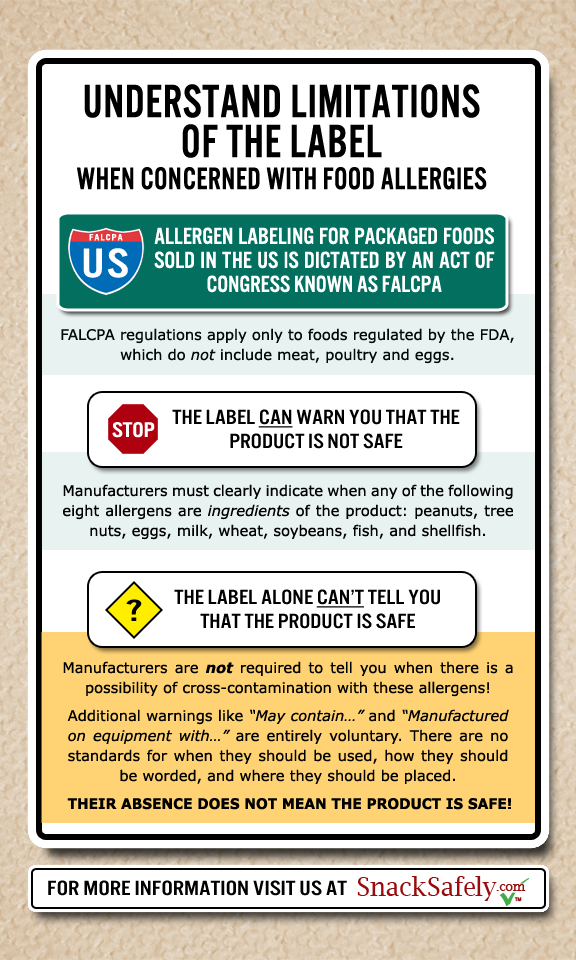 The problem is that many manufacturers choose not to disclose this information or decide to disclose the processing of one allergen and not another. [For detail on how manufacturers decide, see our article entitled "When a Manufacturer Says 'Trust Us' Regarding Allergens".]
How can you determine whether an allergen is indeed processed in the same facility? If the package gives no indication, the only way to know for sure is to call the manufacturer and ask. If they won't divulge that information, the decision is up to you whether to purchase the product.
But why would you trust a company to keep you safe if they refuse to tell you how their product is made?
When a Manufacturer Says 'Trust Us' Regarding Allergens