Despite repeated requests, student often goes hungry for fear of an anaphylactic reaction
Samuel Magaseyev, a first-year biology student at the University of Buffalo, came down with a 103° fever, nausea, vomiting, and fatigue. He has been quarantined in a campus dorm set aside for COVID patients since September 24.
The freshman claims his quarantine dorm was outfitted with an unsanitary, hair-filled refrigerator, a dirty workspace, and a rusty shower littered with pubic hair.
Said Magaseyev to The Spectrum, an independent student-run campus newspaper:
I have no clue how this could possibly happen, but the inside of the fridge has the same [hair] issue [as the shower.] It looks like they didn't properly sanitize the room before I got here. Under the desks, it's just filthy. There are crumbs of something all over.
His primary concern, however, is the university's failure to accommodate his severe peanut and tree nuts allergies despite his repeated pleas for safe foods.
"I have told [campus dining] to stop giving me snacks with nuts in them and always get a positive response, but nothing has come of it. I'm still getting Kind Bars and Clif Bars," he said.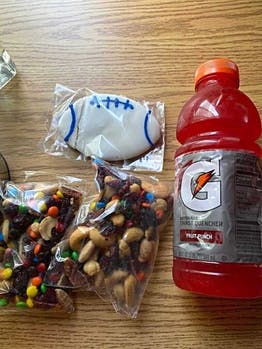 Baked goods like muffins and cookies that are included in his meals and provide many of the calories are especially problematic as they come wrapped in cellophane with no labeling that indicates the food's ingredients and allergen warnings.
"I have a really bad allergy to tree nuts and peanuts so for me having a nutrition label to read to see the potential for cross-contact is a really big deal."
Other students have complained of the meals delivered to them in quarantine including still-frozen sandwiches, warm water, and unappetizing entrees.
Beyond the quality of the meals, Magaseyev's concerns are a matter of life and death as even a trace of an allergen for someone with a food allergy can cause anaphylaxis, a serious, sometimes life-threatening reaction.
Unable to trust many of the foods in his meals, he is often forced to go without.
"When I told my family [I had COVID] they seemed really worried and asked if there was anything they could to help. They're 400 miles away in New York City, so the hard answer is 'no,'" Magaseyev said.
Raymond Kohl, a spokesman for campus dining responded:
[We have] a team dedicated to preparing the meals that students in quarantine receive, and the team can do a great job of meeting a student's needs when the student reaches out and communicates directly. Once a student arrives to their quarantine room, the team is notified by Campus Living and contact with the student through email is established… Once we are aware of a student that has a food allergy or dietary restriction, our Registered Dietitian is also notified and reaches out to them. The team has prepared several meals for students in quarantine that have had either dietary restrictions or food allergies.
Editor's Note: This article has a followup! Please see below.
Update on Quarantined Student with Food Allergies at UB