James Iannazzo, a 48-year-old banker for Merril Lynch, ordered a smoothie from a Robeks outlet in Connecticut Saturday. The drink, ordered without the usual peanut butter, was intended for his son who has a peanut allergy.
At about 1:39PM, he called EMS to his home for his son who was taken to the hospital after suffering an allergic reaction to the beverage.
Iannazzo returned to the store in a rage, determined to find out who had made the drink, but the employees claimed they didn't know before he demanded to see the manager.
An employee tells the father, who was unhinged at this point, to leave the store. In a TikTok video recorded by one of the employees, Iannazzo is heard unleashing a slew of expletives including telling one employee "You're a f-ing immigrant loser." He is also seen throwing the drink which hits an employee in the shoulder.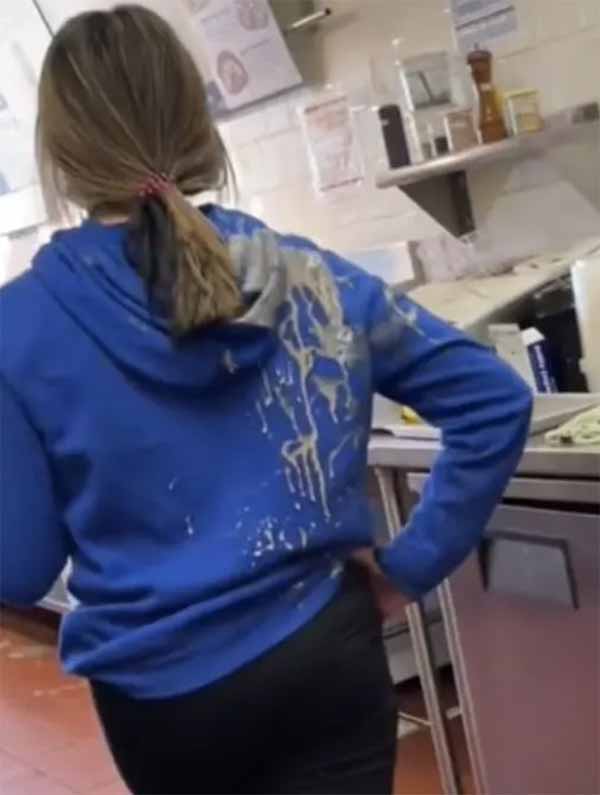 Here is the TikTok video of Iannuzzo's rampage:
Fairfield County police arrived at the scene after Iannazzo had left. They say Iannazzo indeed ordered the smoothie without peanut butter but the employees assert he had failed to mention his son's peanut allergy.
They say Iannazzo turned himself in without incident. Police charged him with intimidation based on bigotry or bias, breach of peace and criminal trespass.
Iannazzo issued a statement following the incident saying:
My actions at Robeks were wrong, and I deeply regret them. They do not reflect my values or my character. I feel terrible that I lost my composure so completely.
He went on to say about his son:
After he started to drink his smoothie, my son lost the capacity to breathe properly; his lips and face swelled up, and he required an EpiPen shot, but it did not offer him relief. I called 911. My son then went to the bathroom, threw up and fell unconscious to the floor. He threw up again. My wife gave him another EpiPen while I called 911 again. Thank God, he is doing okay.
Frank J Riccio Jr, Iannazzo's attorney, said his client "wholeheartedly regrets" the incident. Riccio said Iannuzzo feared for his son's life. After attempts to treat the son at home failed, Riccio said Iannuzzo called the ambulance to rush him to a hospital.
He said:
When faced with a dire situation for his son, Mr. Iannazzo's parental instinct kicked in and he acted out of anger and fear. He is not a racist individual and deeply regrets his statements and actions during a moment of extreme emotional stress.
Iannuzzo was subsequently fired from his position as a financial advisor for Merrill Lynch following the incident.
Said Bill Halldin, a spokesman for the Bank of America, the parent company of Merrill:
Our company does not tolerate behavior of this kind. We immediately investigated and have taken action. This individual is no longer employed at our firm.
Iannuzzo is ordered to appear in Superior Court in Bridgeport CT on February 7.
---
We can appreciate the fear and anger James Iannuzzo must have felt after his son reacted and went into anaphylactic shock from the drink, and we completely understand his desire to confront the person who made the smoothie despite his instructions not to include peanut butter.
But intimidating employees, yelling ethnic slurs, and throwing the drink goes way too far and the video shows the situation could well have escalated into violence had Iannazzo gained entrance behind the counter.
We can't know for sure whether Iannuzzo warned of his son's peanut allergy when he ordered the drink, but he did specify to omit the peanut butter. That said, knowing people (especially teens) often make mistakes, upon receiving the drink he should have plainly stated his son had a severe peanut allergy and double-checked with the employee that made the drink whether it contained peanut butter.
What do you think: should the father have been arrested and fired? You be the judge and let us know below.