Making epinephrine auto-injectors easy to use and carry is critical when ~50% of people with life-threatening allergies do not carry their devices on a regular basis.1-4 This is why AUVI-Q was made to be the size of a credit card and about the thickness of a cell phone—so that it can discreetly fit in most pockets.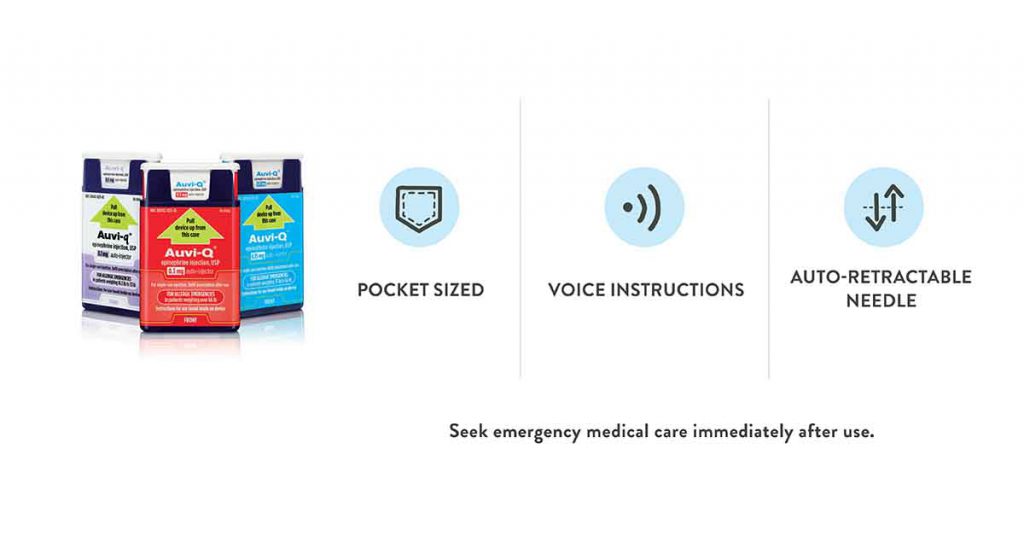 There are a number of epinephrine auto-injectors available on the market. Are all of them the same? While they all contain epinephrine, designs differ. All AUVI-Q devices have 3 key features that help even untrained users rise to the challenge during an allergic emergency:
Pocket-sized design to help make it easy to carry your AUVI-Q wherever you go
Voice instructions that guide users through the injection process and even remind you to seek emergency medical care immediately after use5
Auto-retractable needle that is not seen before, during or after the injection. A patient may not even feel the injection when it occurs5
See the study (N = 693) where AUVI-Q was preferred over EpiPen® (epinephrine injection, USP) in both size and shape.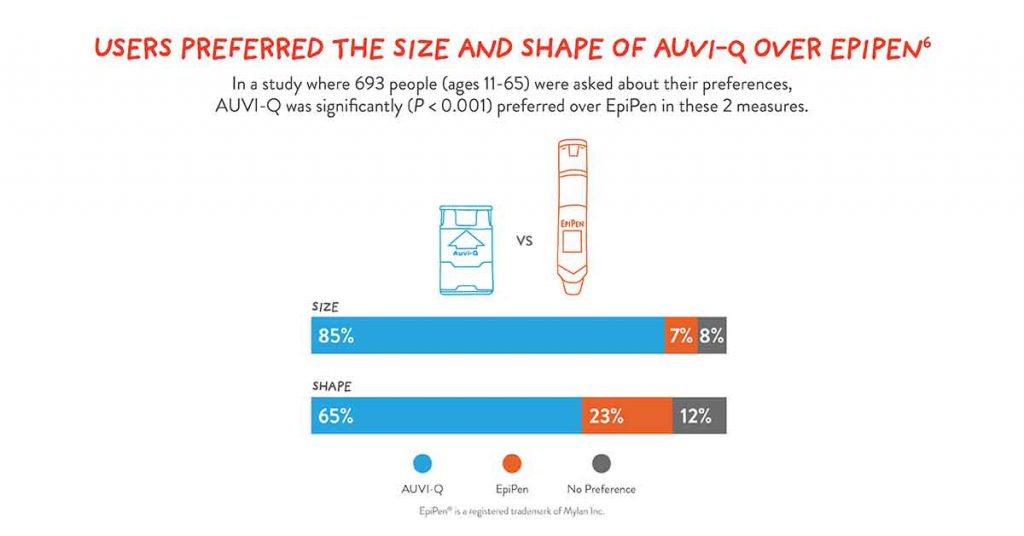 The fact is, life-threatening allergies can take up a lot of space in your life. AUVI-Q was designed to help give some back. The big idea? That if we could build a compact device more people would be willing to consistently carry it. The result? A pocket-sized epinephrine auto-injector that looks and functions like no other.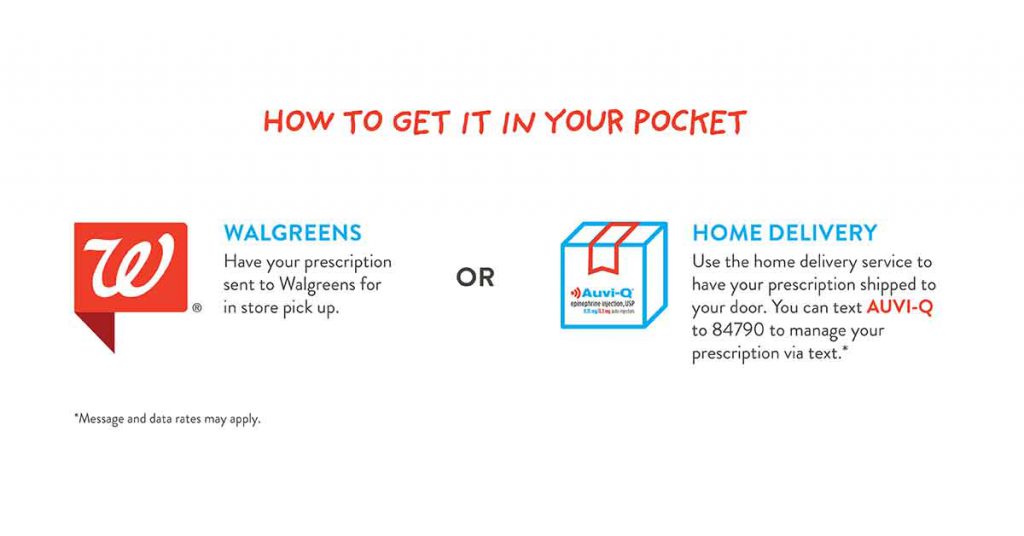 Would a more compact device help you carry? Ask your doctor about AUVI-Q instead of an epinephrine pen. See if you are eligible for low out-of-pocket costs through Walgreens or Home Delivery here. Once you have a prescription from your doctor, getting AUVI-Q is fast and easy.
Already have AUVI-Q? Don't forget to check the expiration date on the back of your device to see if it needs a refill, and sign up for expiration date reminders here. You can also download a free life-threatening allergies digital tool kit here and sign up to access exclusive educational resources.
This post was sponsored by kaleo, Inc.
INDICATION
AUVI-Q® (epinephrine injection, USP) is a prescription medicine used to treat life-threatening allergic reactions, including anaphylaxis, in people who are at risk for or have a history of serious allergic reactions.
IMPORTANT SAFETY INFORMATION
AUVI-Q is for immediate self (or caregiver) administration and does not take the place of emergency medical care. Seek immediate medical treatment after using AUVI-Q. Each AUVI-Q contains a single dose of epinephrine. AUVI-Q should only be injected into your outer thigh, through clothing if necessary. If you inject a young child or infant with AUVI-Q, hold their leg firmly in place before and during the injection to prevent injuries. Do not inject AUVI-Q into any other part of your body, such as into veins, buttocks, fingers, toes, hands, or feet. If this occurs, seek immediate medical treatment and make sure to inform the healthcare provider of the location of the accidental injection. Only a healthcare provider should give additional doses of epinephrine if more than two doses are necessary for a single allergic emergency.
Rarely, patients who use AUVI-Q may develop infections at the injection site within a few days of an injection. Some of these infections can be serious. Call your healthcare provider right away if you have any of the following symptoms at an injection site: redness that does not go away, swelling, tenderness, or the area feels warm to the touch.
If you have certain medical conditions, or take certain medicines, your condition may get worse or you may have more or longer lasting side effects when you use AUVI-Q. Be sure to tell your healthcare provider about all the medicines you take, especially medicines for asthma. Also tell your healthcare provider about all of your medical conditions, especially if you have asthma, a history of depression, thyroid problems, Parkinson's disease, diabetes, heart problems or high blood pressure, have any other medical conditions, are pregnant or plan to become pregnant, or are breastfeeding or plan to breastfeed. Epinephrine should be used with caution if you have heart disease or are taking certain medicines that can cause heart-related (cardiac) symptoms.
Common side effects include fast, irregular or 'pounding' heartbeat, sweating, shakiness, headache, paleness, feelings of over excitement, nervousness, or anxiety, weakness, dizziness, nausea and vomiting, or breathing problems. These side effects usually go away quickly, especially if you rest. Tell your healthcare provider if you have any side effect that bothers you or that does not go away.
Please see the full Prescribing Information and Patient Information at www.auvi-q.com.
You are encouraged to report negative side effects of prescription drugs to the FDA. Visit www.fda.gov/medwatch or call 1-800-FDA-1088.
References: 1. Portnoy J, Wade RL, Kessler C. Patient carrying time, confidence, and training with epinephrine autoinjectors: The RACE Survey. J Allergy Clin Immunol Pract. 2019;7(7):2252-2261. 2. Curtis C, Stukus D, Scherzer R. Epinephrine preparedness in pediatric patients with food allergy: an ideal time for change. Ann Allergy Asthma Immunol. 2014;112(6):560-562. 3. Brooks C, Coffman A, Erwin E, Mikhail I. Diagnosis and treatment of food allergic reactions in pediatric emergency settings. Ann Allergy Asthma Immunol. 2017;119(5):467-468. 4. Warren CM, Zaslavsky JM, Kan K, Spergel JM, Gupta RS. Epinephrine auto-injector carriage and use practices among US children, adolescents, and adults. Ann Allergy Asthma Immunol. 2018;121(4):479-489. 5. AUVI-Q. Prescribing information. kaleo, Inc.; 2019. 6. Camargo CA Jr., Guana A, Wang S, Simons FE. AUVI-Q versus EpiPen: preferences of adults, caregivers, and children. J Allergy Clin Immunol Pract. 2013;1(3):266-272.e1-e3.
AUVI-Q® and AUVI-q® are registered trademarks of kaleo, Inc. Other referenced trademarks are owned by their respective third party owners. © 2022 kaleo, Inc. CM-US-AQ-2386