24-year-old Jess Prinsloo was ecstatic when Craig McKinnon proposed to her on a vacation trip to South Africa. But her life was cut short just four days later when she used the wrong spoon to stir her tea, triggering a fatal anaphylactic reaction.
Jess, diagnosed with a milk allergy when she was just nine months old, was thought to have been exposed to milk after she stirred her tea. Seconds after exposure, she suffered anaphylaxis.
Craig was awakened by Jess' brother who told him she was in distress and he found her in the bathroom struggling to breathe. She had already administered an auto-injector, but it was not enough to halt the progression of anaphylaxis. She was rushed to the hospital where she died the next day — New Year's Day — despite doctors' best efforts.
Craig recalled many close calls Jess had as a result of her milk allergy. She had told him that when she was 18, she needed to be resuscitated after eating curry that contained milk.
He said:
Another time, she ordered a vegan dessert which shouldn't have had dairy and she needed antihistamines, an EpiPen and a hospital trip. I haven't eaten dairy for about three years because it just wasn't worth the risk.
When recalling their trip, Craig said:
Lots of her family live in South Africa and she hadn't been back in six years, so I knew there was no better place to propose.

My voice cracked as I got down on one knee and asked, 'Will you marry me?' She said, 'Oh my God' and started crying before she said yes.

The look on her face… it meant everything.
The couple celebrated over the next few days before heading to Jess' mother's house in Johannesburg on December 30. It was there she suffered the exposure that took her life.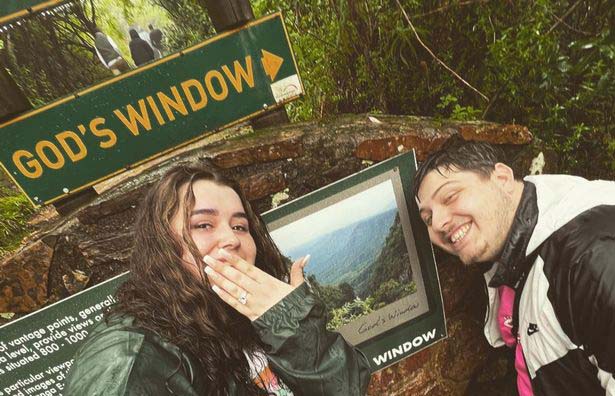 Craig arrived back in the UK last Monday with Jess' ashes and thousands of dollars in hospital bills, funeral costs, and coroner's fees. His mother and Jess' brother have launched a Go Fund Me page to help pay the bills.
---
We send our deepest condolences to Craig and the Prinsloo family who, instead of celebrating a joyous engagement, are now coping with the incomprehensible loss of their loved one. They and Jess are in our thoughts.
Food allergy is an insidious disease where the mere trace of an allergen — in this case, a spoon used to stir tea with milk — can trigger anaphylaxis, a severe, life-threatening allergic reaction.
This is the second report of fatal anaphylaxis in less than a week, the first involving the untimely death of young Emerson Kate Cole.
From the report, Jess did what she was supposed to: she carried and administered her epinephrine — the only drug that can halt and reverse the progression of anaphylaxis. But the dose was apparently not sufficient or administered early enough to save her. It is not known whether she was able to administer a second auto-injector.
We urge everyone who has been prescribed epinephrine to always take two auto-injectors along everywhere, every time, and to administer the first as soon as you suspect anaphylaxis. Epinephrine is generally well-tolerated and the risk of taking the drug unnecessarily is far outweighed by the risk of using it too late during an anaphylactic emergency.
Please visit our Epinephrine 101 page where you'll find instructional videos showing how to administer each brand of auto-injector sold in the US. Educate your family, friends, and coworkers on how to recognize the symptoms of anaphylaxis and show them where to find and how to administer your device so that you build a network of people who can help you if you are unable to help yourself.
Please be vigilant. We must do everything we can to stop this trend of tragedies now.