Avoidance of allergens is difficult because you often have to rely on others to determine whether a food is safe for you. Even if you are hyper-vigilant, inadvertent exposure can happen.
Our reader, Christy D'Adamo, reached out to us with her account of tragedy averted and we thought it was illustrative that no matter how careful you are, you must be prepared should the unthinkable happen.
Here's her story:
Hi, I wanted to share an incident that recently happened to me. I was traveling in Miami and visited the Whole Foods in South Beach on 2/9/23. I got the "Miami Club Sandwich" which on the menu was listed as having pesto. On the ingredient list printed out and placed next to the sandwich in the case, the ingredient list did not contain anything with nuts. I asked several employees behind the counter to confirm the pesto on the sandwich did not contain nuts and they said it did not.

I took two bites of the sandwich and immediately knew something was wrong. My mouth began tingling and I took two Benadryl. I'm also mildly allergic to soy and thought it was an exposure to that. However, my mouth then went numb. I started to feel nauseous and went to the bathroom. At this point I called 911 and they told me to administer my epipen which I did. (Ugh won't hesitate to give myself the epipen next time.) I immediately started convulsing and throwing up. EMTs showed up and took my vitals. I felt much better after administering the epipen and thankfully was ok.

Afterwards, I asked the store if I could read the jar of pesto that the sandwich was made with and it did in fact contain not only pine nuts but cashews. The manager of the store was dumbfounded that the ingredients for the sandwich were listed incorrectly or that the sandwich was made incorrectly. See image of jar below.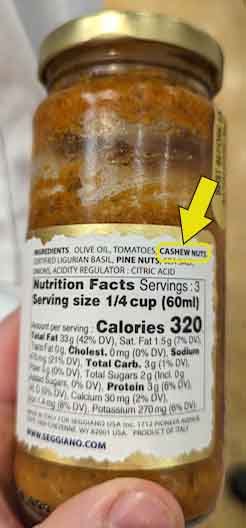 I want to share this story for folks to be super cautious of premade foods despite ingredients being listed. I don't think I'll be comfortable eating anything again without seeing every ingredient with my eyes that goes onto/into it. Furthermore, just because a company is a reputable institution, like Whole Foods, don't let your guard down.

Thanks,
Christy
It's evident Christy did everything she could to determine whether the sandwich she was considering was safe for her allergy short of making it herself in her own kitchen. But despite her best efforts, she was exposed to tree nuts and reacted.
We appreciate that Christy had her epinephrine on hand and administered it in a timely fashion. Epinephrine is the only drug that can halt and reverse the progression of anaphylaxis and should be administered as soon as you suspect anaphylaxis. The sooner you use it, the better the outcome.
Understand that many allergists warn against taking antihistamines like Benadryl when you are in the midst of a reaction because they can mask the symptoms of anaphylaxis. Antihistamines are ineffective against anaphylaxis and using them could delay the use of epinephrine. Consider discussing this with your allergist.
Now for our usual reminder:
Take two epinephrine auto-injectors along everywhere, every time!
We thank Christy for reaching out to us and invite you to do likewise with your teachable moment!