When Lisa Rutter's son Evan was diagnosed with allergies to peanuts and tree nuts at age 3, she was faced with the usual questions, chief among them, "How do I keep my boy safe?"
There were all the common strategies that mothers of children with food allergies employ, like altering the family grocery list to steer clear of foods that might be cross-contaminated with allergens. But when the time came to plan play dates for Evan, she was concerned that contact with a child that had eaten PB&J for lunch or an Almond Joy for snack might be enough to trigger anaphylaxis (followed by a stab with an auto-injector and a trip to the ER, or worse.)
With no place to turn, Lisa came up with the idea for a local group where kids with peanut and tree nut allergies could play together in a safe environment and their moms could socialize, swap stories and lend support to each other. On  May 1, 2011 – with a posting on Meetup.com – the No Nuts Moms Group of Michigan was born.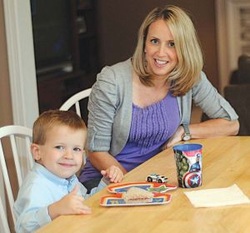 The group planned monthly outings to parks and play places and the moms were free to arrange play dates for their children amongst themselves. A popular feature of the group was the once-a-month moms' night out gatherings at a local restaurant.
A year later, Lisa created a Facebook page to help coordinate her growing group and immediately received inquiries from other moms across the country seeking similar groups closer to home. Employing the experience she gained establishing her own group, she began coordinating local chapters with women that volunteered to lead such groups in their respective communities.
Lisa's vision of providing a safe haven for her son and others with severe food allergies has been realized beyond her expectations. Today, the seed that Lisa planted two years ago in Michigan has bloomed into a thriving community comprised of almost 2000 moms and 30+ local No Nuts Moms Groups spanning the US and reaching into Canada, complete with on-line Facebook forums and a Twitter feed of articles of interest to parents of children with food allergies.
Local Chapters of the No Nuts Moms Group
Leaders in italics
---
Athens, OH – Jennifer Gillen
Arlington, VA – Michelle Horgan
Belpre, OH/Parkersburg, WV – Tiffini Witte
Buffalo, NY –  Dawn Troidl
Chicago, IL – Michelle Braccioforte
Cincinnati, OH – Kellie Wirmel
Cleveland, OH – Larissa Minch
Colorado Springs, CO – Rebecca Sherrow
Cortland, NY – Amanda Rink
Dallas, TX – Jennifer Le
Dalton, GA – Julie Sane
Dayton, OH – Krista Gordan
Denver, CO – Lauren Kanizay
Fort Collins, CO – Heather Esterday
Grand Junction, CO – Lindsay Maurer
Kansas City, KS – Patty Douglas
Los Angeles, CA – Aila Holley
Michigan – Lisa Rutter, Andrea Fiebelkorn, Jennifer Kuzdal
Minneapolis, MN – Laura Burgess, Shelly Kent
Naperville, IL – Maureen Pachnik
Northern NJ – Nina Reams
Northern VA/DC – Amanda Iorio
Ontario, Canada – Sarah Christine
Orange County, CA – Stephanie Torres
Picayune, MS – Chelsea Henry
Portland, OR – Pamela Ooten
Richmond, VA – Stephanie Gatewood
Simsbury, CT – Jennifer Seiderer
Sioux Falls, SD – Nikki Cisse
Southern NJ – Melanie Shaw
Springfield, IL – Melissa VanHuss
Washington State – Alexandra Janes
West Chester, PA – Chrissie Campbell
Winchester, VA – Erica Zambanini
To learn more about the No Nuts Moms Group, to join a local chapter or to explore starting your own, click here to visit their website. Dads and other family members are welcome to join their on-line community where other food allergies are frequently discussed.