We're pleased to present the following press release issued by the newest member of our Manufacturer Partnership Program.
prweb.com
/releases/2014/05/prweb11841896.htm
Earth Source Organics Joins SnackSafely.com's Manufacturer Partnership Program
The Righteously Raw Chocolate line is now featured in SnackSafely.com's comprehensive Safe Snack Guide.
San Diego, CA (PRWEB) May 12, 2014
SnackSafely.com, a website and guide created to spread awareness and safety regarding product ingredients, have added Righteously Raw chocolates to their list of products proven safe to eat for those who suffer from harmful and potentially dangerous food allergies. SnackSafely.com's mission is to educate the public and reduce the danger to the almost 6 million children in the United States who suffer from food allergies through the publication of their constantly reviewed, updated, and verified Safe Snack Guide. In order for a company's products to be approved for the list, they must disclose information not required on labels through the website's proprietary portal, going above and beyond regulations set by the FDA.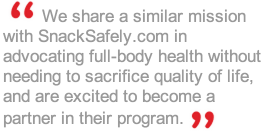 As Earth Source Organics (ESO) is no stranger to stringent quality control, partnering with SnackSafely.com was an easy match. ESO's manufacturing facility has been allergen-free from the start, holding a multitude of certifications that reflect a dedication to the health of their customers. As a result, their products are completely free of the top eleven most common food allergens – milk, eggs, peanuts, tree nuts, soy, gluten, fish, mustard and shellfish, as well as sesame – all this in addition to being certified organic, vegan, gluten-free, kosher, and Non-GMO.
Joining SnackSafely.com's Safe Snack Guide is another way that ESO seeks to spread awareness about the benefits of raw, all-natural, high-quality ingredients as part of a healthy lifestyle. "Our customers' well-being and happiness is our number one priority," says ESO President Audrey Darrow. "We share a similar mission with SnackSafely.com in advocating full-body health without needing to sacrifice quality of life, and are excited to become a partner in their program."
Righteously Raw Chocolates make for a great addition to the Safe Snack Guide with treats that are sweetened with low-glycemic alternatives and never made with processed or genetically modified ingredients. In addition to being made in a dedicated allergen-free facility, Righteously Raw Chocolates are nutrient-dense, offering the cardiovascular and antioxidant benefits of superfood truffle and raw cacao. For additional snacks safe to those with food allergies, be sure to check out the rest of the products in the Safe Snack Guide at https://snacksafely.com.
About Righteously Raw Chocolates:
Righteously Raw is the gourmet chocolate brand of the certified organic food manufacturing company Earth Source Organics. Based in Southern California, this company is on a mission to provide organic and delicious foods to its customers to help them lead happy, healthy lives. For more information, please visit http://www.righteouslyrawchocolate.com.
To learn more about the ingredients in Righteously Raw Chocolates, please contact Audrey Darrow at (760) 734-1867 or info(at)earthsourceorganics(dot)com.