When eating is a gamble, having an extra tool to take the first bite can help remove anxiety from the plate. The Nima Peanut Sensor is a quick and portable device that will test a sample of liquid or solid foods for the presence of peanut proteins that can cause allergic reactions.
Watch how Nima can fit into your life:
Designed using the same technology as the gluten sensor which launched last year, the peanut sensor is being developed to detect 10 parts per million (ppm) of peanut protein or more at 98.8 percent accuracy.
How it works
The first and only product of its kind on the market today, Nima tests a sample of liquid or solid food on-the-go, using a patent-pending blend of chemistry, electrical, and mechanical design, simplified into three easy steps.
Watch how it works:
Step 1: Put some food into the Nima test capsule, which contains proprietary chemistry that looks for the peanut protein.
Step 2: Insert the test capsule into the Nima sensor and start the test.
Step 3: Nima runs a chemistry-based test that takes about three minutes. The sensor will display a peanut icon if the protein is detected, or a smile icon if the sample size has less than 10 ppm of peanut.
Step 4 (optional): Your test results can be shared with the Nima community via the Nima App. You can discover new restaurants or packaged food items from thousands of data points contributed by other members who are avoiding gluten or peanut.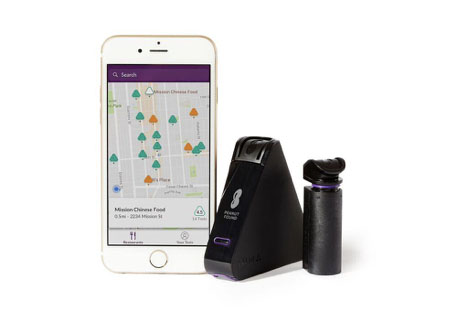 Availability
The Nima Peanut Sensor is available for pre-order for a limited time at discounted early bird price. Now through March 8, 2018, you can pre-order a Nima Starter Kit – Peanut for $229 ($60 off) in the U.S. and Canada on the Nima website. A starter kit includes the sensor, a 12-pack of peanut test capsules, a charging cable, and a carrying pouch.
Have more questions about the Nima peanut sensor? You can find all of Nima's FAQs here.