We're excited to announce the addition of many new products from our existing partners as well as products from two new members of our Manufacturer Partnership. Please welcome:

— the leading provider of Freeze-Dried Fruit Crisps, offering the absolute best quality, all-natural, freeze-dried fruit snacks! Their fresh fruit is sourced from the earth's prime growing regions and picked at the peak of ripeness, and their freeze-dried process allows the fruit to retain all flavors and nutrients, containing zero additives or preservatives.

— Bubbies made a name for themselves with their mochi ice cream. Made with the highest quality ingredients, they wrap their delicious, super-premium ice cream with a soft, sweetened dough called mochi for the perfectly proportioned bite of happiness. Using only premium, high-quality ingredients, their mochi ice cream is gluten-free, kosher, and GMO-free.
We have a number of ways to help you find products suitable for your allergen restrictions:
Visit Allergence — our product screening service — where you can research over 2000 products from our 120+ partner manufacturers to see PRECISELY how each is manufactured with respect to the 11 allergens we track (the Top 8, sesame, mustard, and gluten) — including shared line and facility information you won't find on the label or anywhere else!
Download the latest edition of the Safe Snack Guide — our extensive catalog of food products that are peanut, tree-nut, and Top 8 allergen-free.
Create your own Custom Safe Snack Guide tailored to exclude your family's own mix of allergens.
---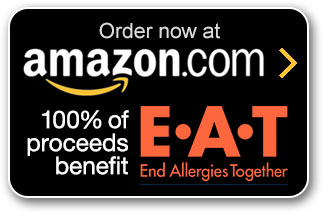 Remember, you can purchase many of the products listed in the Safe Snack Guide and Allergence from Amazon with just two clicks! All proceeds are donated to End Allergies Together to fund research into a cure for food allergy. Just click the product listing in the Safe Snack Guide or the Purchase on Amazon button in Allergence!
---
Sheltering at home? We feature 30+ discounts for many of these products you can order online! Visit our #SnackSafelyAtHome page!
Don't want to miss an update or the latest food allergy news? Subscribe to our newsletter and never miss a beat:
Subscribe to our weekly newsletter and never miss an important food allergy article! Unsubscribe at any time. We pledge never to share your address.
Discounts and Guidance on Ordering Allergy-Friendly Foods Online: #SnackSafelyAtHome