Halloween is traditionally a source of joy for many kids and a source of anxiety for many others with disabilities and their families. While dressing up, trick-or-treating, and attending parties seem like no-brainers, there are many families that look to those activities with dread because they pose unique challenges.
One such challenge is food allergies. Today, an estimated 5.6 million children suffer from allergies to one or more common foods; that's one in thirteen or an average of two in every classroom. Since even traces of allergens can be life-threatening, Halloween poses a dilemma to families coping with the disease.
Teal
Enter the Teal Pumpkin Project originated in 2012 by Becky Basalone, the director of FACET, a Tenessee-based food allergy group. The initiative recognizes that children with food allergies cannot partake in traditional Halloween treats and encourages participants to place a teal-colored pumpkin on their property to indicate they offer non-food treats.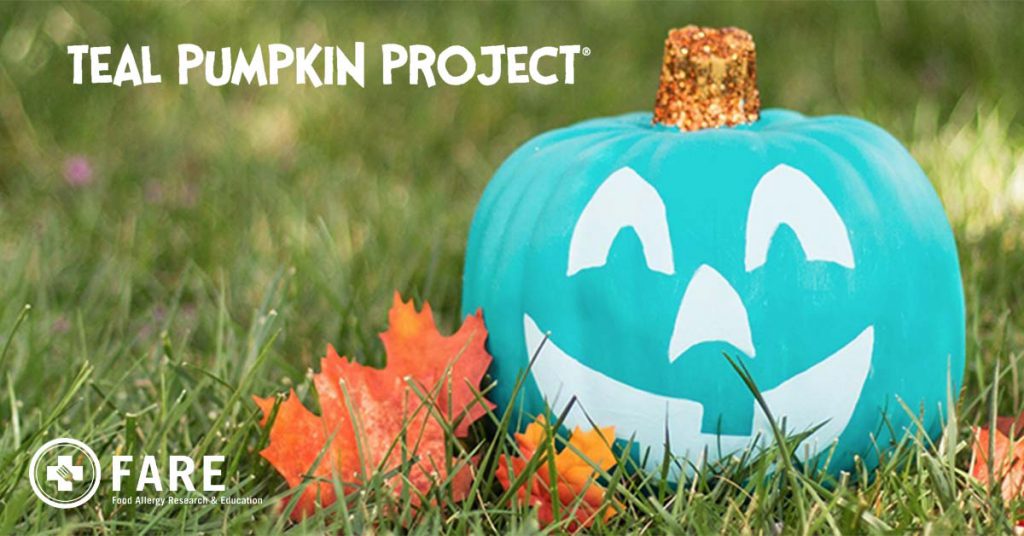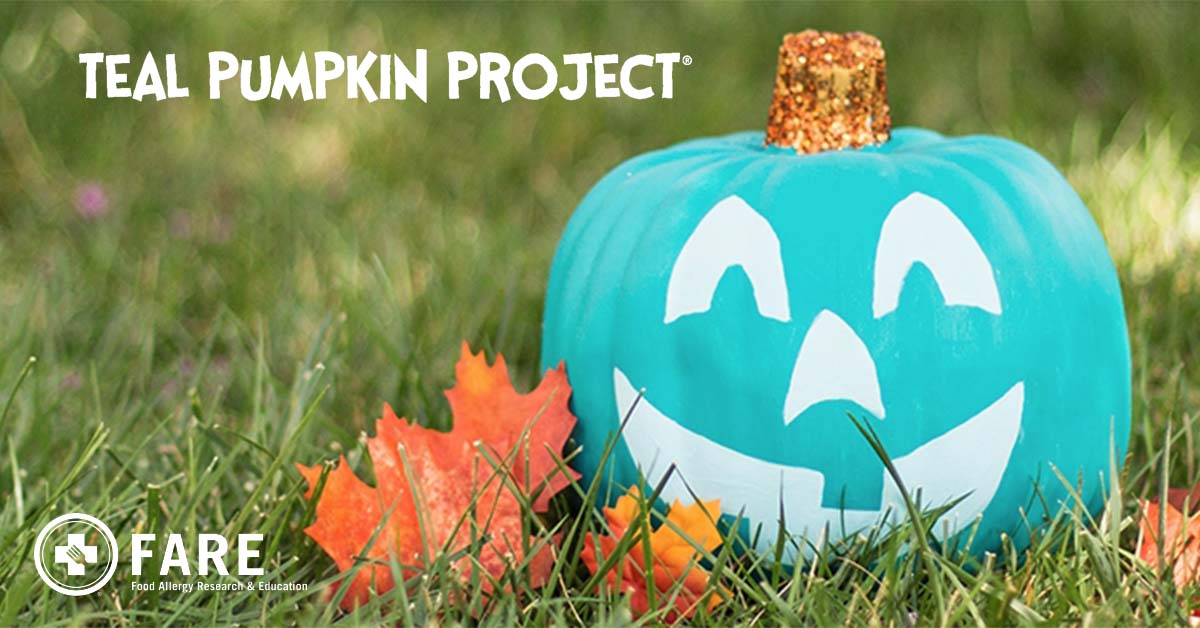 Some have extended the practice to the buckets kids carry to collect treats: A teal bucket may be an indicator that the child has food allergies and should be given a non-food treat when possible.
The project has proved wildly successful and is embraced by the food allergy community and beyond. Among those promoting the initiative is Food Allergy Research and Education (FARE) which has devoted a section of their website to the project.
The success of the Teal Pumpkin Project has spawned a number of similar efforts to accommodate children with other disabilities. Chief among these are blue and purple pumpkin initiatives.
Blue
Carrying a blue bucket is intended to alert others that the participant (who may be a child or adult) may be coping with Autistic Spectrum Disorder (ASD) and may be non-verbal or have difficulty communicating.
The tradition seems to have started with this 2018 Facebook post by Alicia Plumer: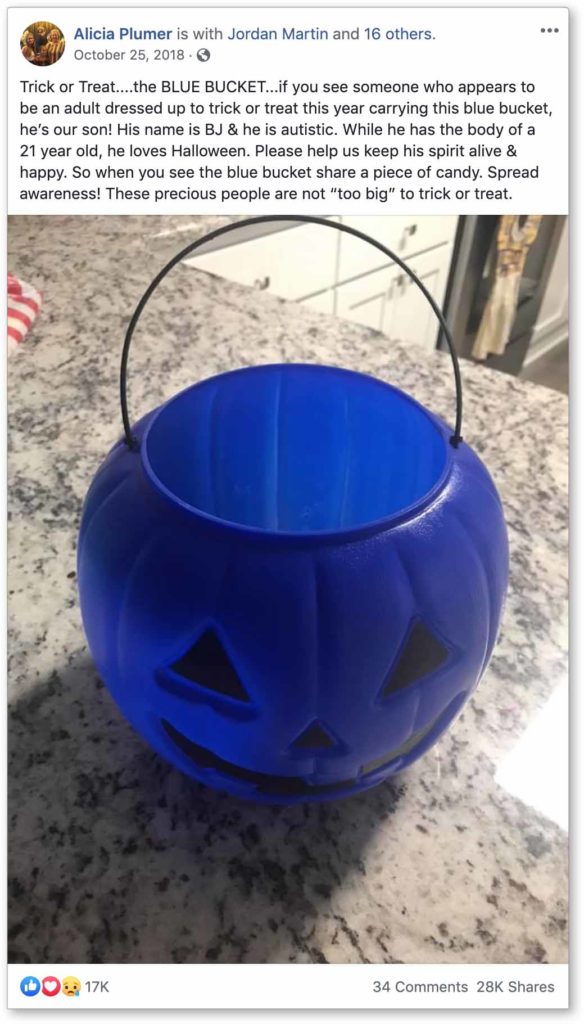 Though the effort has been embraced by some in the ASD community, support is by no means universal. A number of parents with children on the spectrum have spoken out against the initiative, disagreeing with the premise that their children should be labeled.
Here is an example of resistance to the initiative from Meghan Ashburn, author of the "Not an Autism Mom" blog: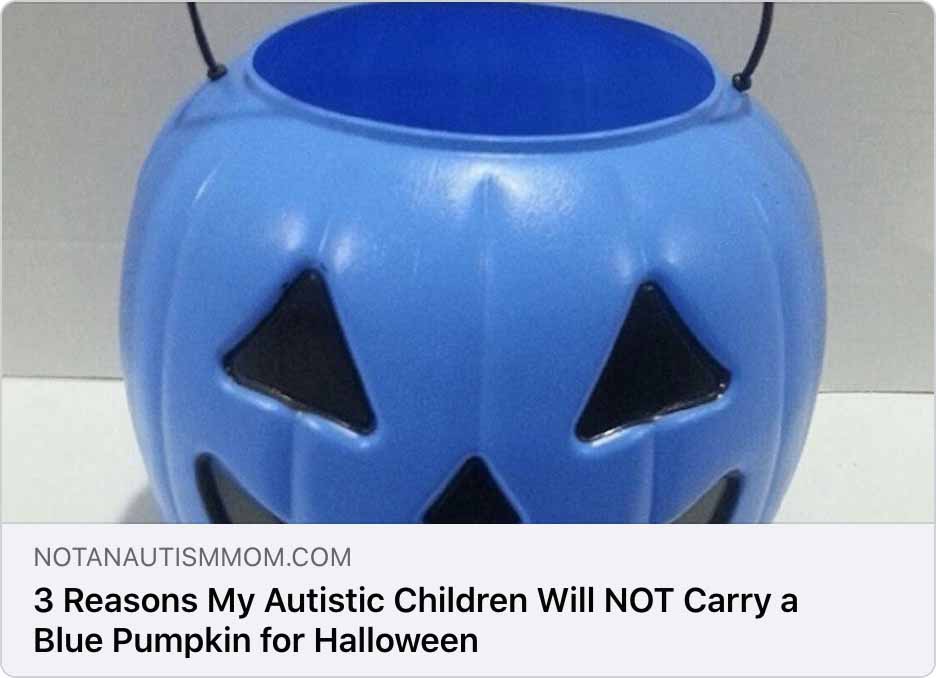 The carrying of blue pumpkins appears to be more of a grassroots effort as we could find no specific advocacy group supporting the initiative.
Purple
Yet another initiative is the Purple Pumpkin Project sponsored by the Epilepsy Foundation. On its website, the foundation invites participants to "Paint your pumpkin purple and help raise awareness for epilepsy".
The project is intended for the carrying of purple pumpkins to foster discussion about epilepsy and encourage fundraising to help eliminate the disease, not to identify children who may be sufferers.

---
Our Take
While we at SnackSafely.com support all efforts to educate the public about disabilities that affect the community — especially those that affect children — we recognize that kids will often just choose a pumpkin they want to carry regardless of whether it's orange, teal, blue, or purple. That more or less will render signaling the need for accommodation moot no matter how well-intentioned.
We do, however, encourage you to participate in the Teal Pumpkin Project by placing a teal pumpkin outside your home and offering non-food treats like stickers, spider rings, temporary tattoos, and the like. You can even put your home on the Teal Pumpkin Project map to help kids with food restrictions find you.
The Halloween Edition of the Safe Snack Guide Makes Life a Little (Less) Scary