Krystal Alexis received special recognition at a Liberty County, Georgia School meeting yesterday for saving her co-worker's life.
It was lunchtime in seventh-grade life sciences teacher Lauren Parker's classroom at Hinesville Snelson-Golden Middle School in April. She picks up the story:
One student was eating a peanut butter and jelly sandwich. I am severely allergic to peanut butter and peanut products. He was a new student, so he really didn't know. He wasn't accustomed to what the other students are accustomed to and knowing my allergies. I sat there for a couple minutes, and I just started to feel my throat close. And my first instinct was why is my throat closing, and why can't I breathe?
When Alexis — who had been promoted to backup school nurse just two months earlier — was called to the classroom, she realized Parker was slipping into anaphylactic shock.
She said:
I realized like ok, she literally can't breathe. I ran up here, got the wheelchair, ran back down, wheeled her back up here.
She then administered an epinephrine auto-injector which stabilized Parker until emergency responders arrived to take over.
Epinephrine is the only drug that can halt and reverse the progression of anaphylaxis, a life-threatening reaction to a food, drug, insect venom, or environmental allergen.
Said Alexis:
We were able to kind of get her heart rate and her breathing normal before EMS came.
Parker, when asked what was going through her mind when she reacted, answered:
Honestly, I thought I was gonna die. It was so bad. I couldn't catch my breath, I was wheezing. I thought that was it for me.
You can see the WSAV-TV news report of the incident here: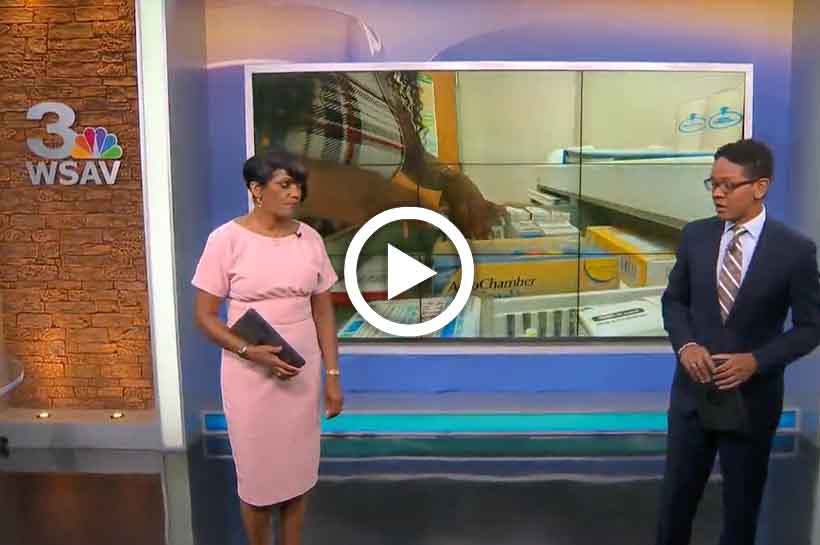 ---
We are grateful Nurse Alexis' quick thinking and action saved her colleague from the unthinkable.
We are also grateful that an epinephrine auto-injector was on hand to stabilize Ms Parker before EMS arrived. Had epinephrine not been available, the outcome could have been tragic.
This brings up two issues worth mentioning.
First, stock epinephrine — i.e. epinephrine that is not prescribed to any one person and can be used for anyone suffering an anaphylactic emergency — should be available in all schools and places of public accommodation nationwide much like automated external defibrillators (AEDs) are.
Second, in cases where food is consumed in close quarters like a classroom, special care should be taken to restrict allergens that can be transferred by airborne means or cross-contact. We can help with our family of Safe Snack Guides used by schools and hospitals throughout the country.
Safe Snack Guide