On Sunday, Hilary Duff — star of Lizzie McGuire, Younger, How I Met Your Father, and many other roles — posted a photo of herself with swollen lips ostensibly caused by a reaction to scallops.
She wrote: "Scallop allergy confirmed 😟. Really hoping it's not ALL shellfish 🥲," and "I really thought my lip might explode."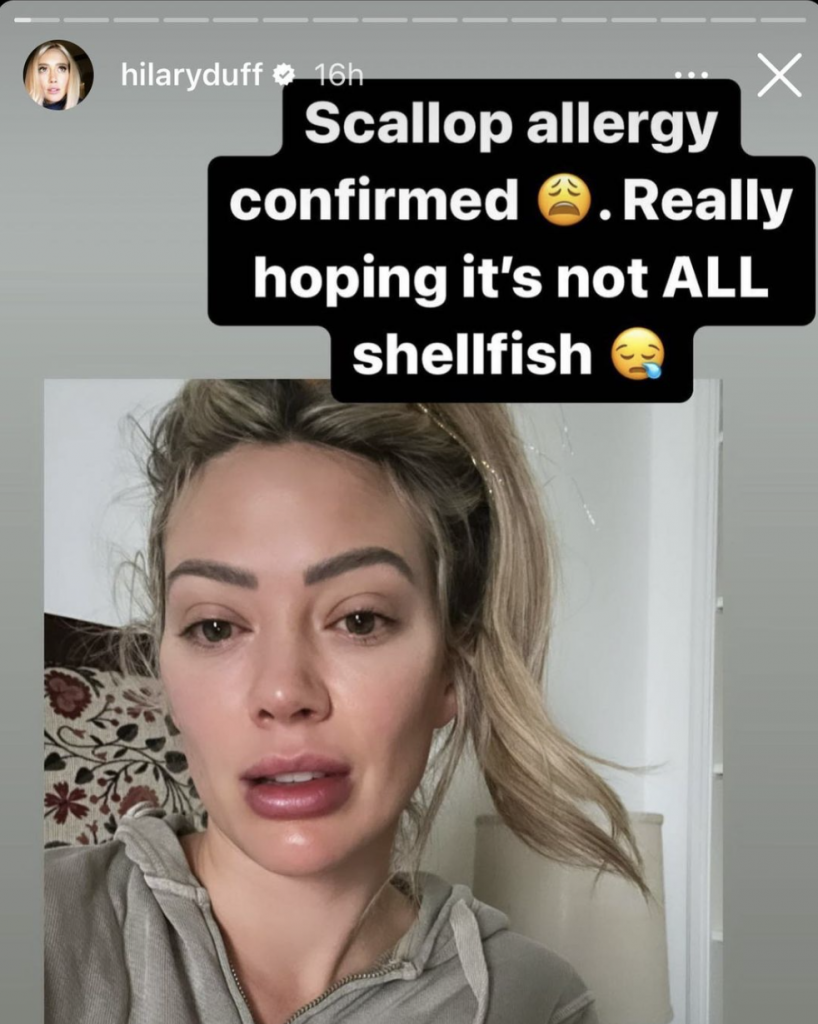 We're sorry to hear Ms Duff suffered a reaction but we welcome her to the food allergy community which is comprised of some 32 million Americans and the people who love and care for them. We urge her to visit an allergist to determine definitively that she is allergic to scallops — and not some other ingredient in the dish she ate — and what other foods she might be allergic to.
We also urge her to carry two epinephrine auto-injectors with her wherever she goes and not hesitate to administer one should she suspect anaphylaxis. Epinephrine is the only drug that can halt and reverse the progression of anaphylaxis, a life-threatening reaction to a food, drug, insect venom, or environmental substance.
That said, Ms Duff's tweet brings up an interesting question: What does the FDA consider "shellfish" when it comes to labeling food products for allergens?
Now that 2023 has arrived, the US Food and Drug Administration has identified nine allergens ("Top 9") that must be labeled explicitly: peanuts, tree nuts, milk, eggs, soy, wheat, fish, crustacean shellfish, and sesame. For all of the Top 9 allergens that are ingredients of a product, the label must list them in one of two ways as described here:
How Manufacturers Must Declare Allergens on the Label
The first option for food manufacturers is to include the name of the food source in parenthesis following the common name of the major food allergen in the list of ingredients in instances when the name of the food source of the major allergen does not appear elsewhere in the ingredient statement. For example:
| | |
| --- | --- |
| | Ingredients: Enriched flour (wheat flour, malted barley, niacin, reduced iron, thiamin mononitrate, riboflavin, folic acid), sugar, partially hydrogenated soybean oil, and/or cottonseed oil, high fructose corn syrup, whey (milk), eggs, vanilla, natural and artificial flavoring) salt, leavening (sodium acid pyrophosphate, monocalcium phosphate), lecithin (soy), mono-and diglycerides (emulsifier) |
The second option is to place the word "Contains" followed by the name of the food source from which the major food allergen is derived, immediately after or adjacent to the list of ingredients, in type size that is no smaller than the type size used for the list of ingredients. For example:
Contains Wheat, Milk, Egg, and Soy
This brings us to the question we posed in the title: are scallops an FDA-designated Top 9 allergen? The answer is no, and the reason has to do with how the FDA defines "shellfish".
Allergen labeling regulations were instituted by legislation known as the Food Allergen Labeling and Consumer Protection Act of 2004 (FALCPA) that took effect in 2006. At the time, FALCPA identified the first eight top allergens which included "crustacean shellfish". This family of shellfish includes "soft shell" arthropods like crab, lobster, prawn, shrimp, langoustine, and crawfish.
Scallops fall under the other family of shellfish known as "molluscan shellfish", comprised of "hard shell" bivalves (clam, oyster, scallop, mussel), cephalopods (squid, octopus), and gastropods (abalone, snail, and whelk).
Why did the FDA split shellfish into two families for the purpose of labeling? Because allergies to crustaceans are much more prevalent than those to mollusks.
What this means is that individuals with allergies to molluscan shellfish must be extra careful when purchasing food products as there are no specific regulations that require them to be labeled as allergens.