Thousands of schools and tens of thousands of families have relied on the family of Safe Snack Guides for over a decade to help keep allergens out of the classroom and the home! Also, try our interactive Allergence product screening service, the only app that shows you precisely how each product is made, including shared line and facility information!
We've updated all editions of the Safe Snack Guide, including our standard editions (Peanut and Tree Nut Free, Milk (Dairy) Free, Sesame Free and Gluten Free) as well as over 8,000 Custom Editions tailored to your family's or classroom's specific allergen restrictions!
We list over 3,000 products from 190+ responsible members of our Manufacturer Partnership who provide detailed allergen processing data, including shared line/facility information you won't find on the label or anywhere else.
You can also browse these products interactively in our Allergence product screening service.
Welcome new partners
In addition to tons of new products from our existing members, please welcome five new members to our Manufacturer Partnership:

Solula Tostones — They make the best plantain tostones on the planet working with local farmers and a traditional recipe that has been passed along for generations. Solula partners with local plantain growers in Ecuador and Guatemala and are committed to supporting them in maintaining the health of their crops, their lands and their livelihoods. Certified kosher, gluten-free, and non-GMO and free of the Top 9 and mustard.
---

Live Crispy — Leading a revolution in all natural snacking, they are the first all natural blended and dried fruit snack. Made with fresh pineapple and blended with other fruit and vegetables, Live Crispy has no added flavors, colors or preservatives. A healthier alternative to potato chips, candy, cookies or other fruit snacks that have added sugar and gelatin. Free of the Top 9 with the exception of coconut and certified kosher.
---
Absurd Snacks — On a mission to make living with food allergies easier, safer, and more delicious, Absurd Snacks seeks to create safe but crazy delicious snacks for people who have allergies to one or more of the Top-9 foods. They offer trail mixes that pack a punch of flavor in every light, crunchy, and chewy bite. Free of the Top 9 and mustard and certified gluten-free.
---

The Grain Free Baker — Spending a lifetime navigating food allergies and after years of searching for desserts safe to eat, The Grain Free Baker has created a line of delicious baking mixes with ingredients you can trust. (Disclaimer: Even those without allergens have been known to love cookies made from these mixes!) Gluten-free and free of the Top 9 and mustard.
---

WOW Baking Company — With an extensive line of soft-baked cookies, the company remains dedicated to creating the best tasting wheat- and gluten-free baked goods using only the finest ingredients. You won't find artificial flavors or colors here! All their products are produced in a dedicated, gluten-free, SQF Certified facility by a team of dedicated bakers. Products are also certified non-GMO and are free of fish, crustacean shellfish, sesame and mustard.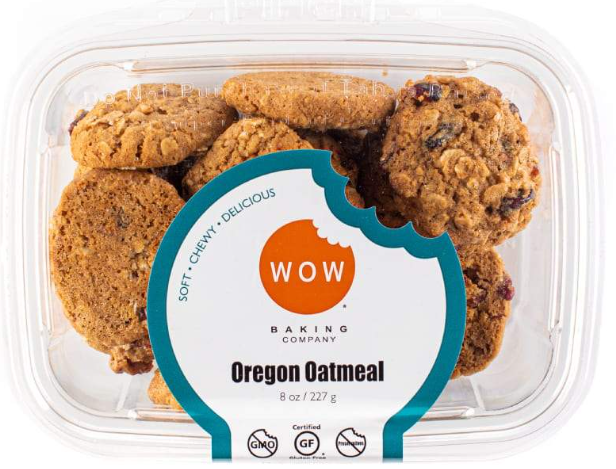 ---
With this update we also say goodbye to partners Sweet Poppin's and Somersaults, both of which have ceased operations.
Why the Guides?
While US regulations require manufacturers to label when any of the Top 9 allergens are ingredients of a product, they do not have to disclose when those allergens are processed in the same line or facility as those products are manufactured. Warnings like "Manufactured in a facility that also processes peanuts" and "May contain traces of milk" are entirely voluntary; some manufacturers include them, some don't, and some warn for one allergen and not another.
Even a trace of an allergen can cause life-threatening reactions, hence the need for well-researched information that goes beyond what is required on the label: our guides.
How We Source Information for the Guides
SnackSafely.com partners with responsible manufacturers who agree to use our proprietary platform to disclose detailed processing information for each product in exchange for listings in our guides and our interactive Allergence product screening service. We then curate that product data for completeness and accuracy and use it to provide you with information you won't find on the label or anywhere else.
How the Guides are Organized
Each guide is organized into 40+ categories of foods to help you find the products you're looking for. Some example categories are:
Chocolate
Candy
Ice Cream
Cookies
Cake & Muffins
Baking Mixes & Flour
Baking Chocolate
Chips
Pretzels
Fruit Snacks
Vegetable Snacks
Cheese Snacks
Rice, Grains & Seeds
Herb & Spices
Peanut Butter Alternatives
Nutrition Bars
Granola
Pasta
Prepared Foods
Bread, Bagels & Rolls
Where to get the latest:
Browse products from our featured partners: