partnership

-

search results

If you're not happy with the results, please do another search
Data discussed at EAACI 2018 reveal uncertainty, bullying and high levels of anxiety around food.
Important recall for those concerned with milk cross-contact.
"Our goal is to provide the type of deep disease understanding and therapeutic decision-making that is now becoming routine in the cancer field."
Newly revised educational course now available for free for schools nationwide.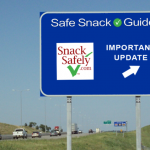 Many new entries added to our catalog of over 1000 peanut, tree nut, and Top 8 allergen-free products!
Bookmark it and check back each week for new discounts and offers!
Tons of allergy-friendly Easter-themed products to make the holiday special for that special someone!
Many allergy-friendly Easter-themed chocolate options including bunnies, eggs, bars, and truffle assortments! Fill your basket!
A catalog of over 1000 peanut, tree nut, and Top 8 free foods with an entire section devoted to Easter-themed goodies!
With a dedicated section of allergy-friendly Valentine's Day candy, chocolate, cookies and gifts!