Food Allergy Research and Education (FARE) has published an update to their emergency action plan template entitled: "Food Allergy & Anaphylaxis Emergency Care Plan". The template is used by parents to provide a plan of action and authorize others to administer medications should their child suffer an allergic reaction.
The new template describes the common symptoms of allergic reactions and anaphylaxis and provides personalized instructions detailing the steps to take in each case, such as "give antihistamines" and "inject epinephrine immediately and dial 911". The template also provides step-by-step instructions on how to administer epinephrine using popular auto-injectors including EpiPen©, Auvi-Q©, and the Adrenaclick© brand name and generic versions.
The parent and the child's physician complete and sign copies of the template for submission to school, day care, scout troop, youth sports leagues, etc.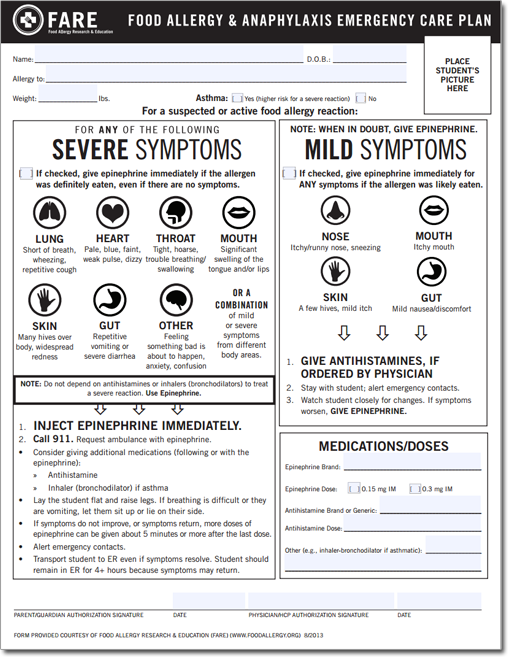 We at SnackSafely.com urge parents to update their child's emergency action plan before the start of the school year and distribute copies as appropriate. Parents should make sure the plan is well understood by each care giver and should learn and approve the location where the child's medications will be stored.
The template can be downloaded from the FARE website by clicking here.