We're big fans of Dine Aware™, a service that offers food allergy/intolerance training and certification for food and beverage service employees.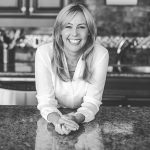 Paula Cooper, Dine Aware's CEO, often provides insights gathered from her years of experience working in the industry and her own battles with Celiac disease. Though her recent newsletter was geared toward the foodservice industry, her common sense suggestions are applicable to any home where cross-contact is a concern.
Here are her tips regarding utensils:
Dine Confident Tip 1:
Two is Better than One
If you are going to accommodate the food allergy/gluten-free public and do it well, separation is key to everything.
Having a utensil kit that is only used for food allergy guests (i.e. dedicated) and is properly sanitized between uses is a great idea. This helps to prevent allergen proteins transferring from unsafe dishes to food allergy dishes.
Dine Confident Tip 2:
Name Your Utensils
I don't mean naming your favourite flipper Fred.
Rather, I'm talking about labelling or colour-coding utensils that are used specifically for food allergy or gluten-free guests.  Identifying these utensils with a special colour or simply naming them, e.g. "GF", will help staff keep them separate, use them safely and for their intended purpose.
Pro Tip: Use these specific utensils during pre-service prep to help prevent any accidental cross-contact of allergens in prepped ingredients.
Dine Confident Tip 3:
What's Your Utensil Touching?
I see this all the time in open kitchens or in quick service watching a meal being prepared. Designated spoons, tongs, etc. used to portion ingredients, e.g. sandwich assembly, are the unwitting victims of cross-contact. These utensils are used to smoosh (technical foodservice term), flatten or otherwise rearrange previously placed ingredients.
Result: The utensil mixes with other ingredients that could have allergens present and cause cross-contact with the dish and prepped ingredient when the utensil is returned to its container.
Tip Take Aways:
Keep utensils separated.
Make dedicated utensils easy to identify.
Keep utensils from touching what it shouldn't be touching.