Please Note: There is a more recent update to this article. Read it by clicking here
.
Lately, we've been inundated with inquiries from readers panicked about a rumor that Pepperidge Farm Goldfish crackers are no longer manufactured on peanut and tree nut-free lines. Here's an example:
Dave,

Can you follow up on this? Several support group leaders and members have called and have been consistently told that all PF items, including Goldfish, are made on shared lines with tree nuts. They have said the lines are still peanut free.

Thanks,
Julie
Though we have no relationship with Pepperidge Farm – they are not members of our Manufacturer Partnership, though we would like them to be – a number of Goldfish varieties are listed in the Safe Snack Guide as "black dot" items: legacy products that we research periodically on a best effort basis.
Once again we reached out to our contact at the firm, Ellen Passero, Quality Director at Pepperidge Farm, and asked her if there were any changes in the manufacture of Goldfish since our last exchange. Here is her response:
Dave – thanks for reaching out again to clarify the conflicting information that your members have received.  Our position on peanuts and tree nuts for the manufacture of our Goldfish crackers has not changed, and I apologize for any confusion.  We will work with our Consumer Response Center to provide clear information to consumers, but for now I will reiterate the information I sent to you back in 2015:

Regarding your question about which varieties of Goldfish are RELIABLY made on lines that do not also process peanuts and tree nuts, I can confirm that all varieties of our Goldfish crackers are made on lines that do not process peanuts or tree nuts.  We are known by many consumers to be peanut/tree nut free and we are proud that we can provide that assurance.  This has been our practice for many, many years.

Conversely, our Goldfish Graham cookies are processed on lines that also process other cookies, some of which contain tree nuts.  We are specific in our communication at our call center to separate the crackers from the cookies for this very reason.  Of note, these cookie lines are subject to strict procedures regarding cleaning between runs in accordance with good manufacturing practices.

Your question of which varieties are produced in facilities that do not process peanuts or tree nuts is a little less straightforward.  We produce a wide range of cookie, cracker and bread products at multiple facilities, and the mix of products produced at each facility shifts with demand. That means, at any given time there may be products being made in a facility that is not processing any nuts at the time, but that same product may also be produced in another facility that is processing tree nuts.  However, even within the same facility, we are conscious of allergens and have strict procedures to manage the presence of allergens.  We work closely with organizations like FAAN and FARP in order to understand how we can best manage the risk of allergens while respecting the needs of all consumers. Additionally, it is worth repeating, regardless of if Goldfish crackers are or aren't being made in a facility that processes tree nuts, Goldfish cracker are always produced on lines that do not process peanuts or tree nuts.
Based on the above feedback from the company, we confirm the varieties of Goldfish crackers listed in the Safe Snack Guide continue to be made on peanut and tree nut free lines.
Our thanks again go out to Ms Passero for helping us clear up the confusion surrounding the manufacture of this product family.
---
Note that we provide detailed information regarding the manufacture of partner products with respect to the 11 allergens we track in Allergence, including all the bolded items listed in the Safe Snack Guide. Here's an example (not related to Goldfish):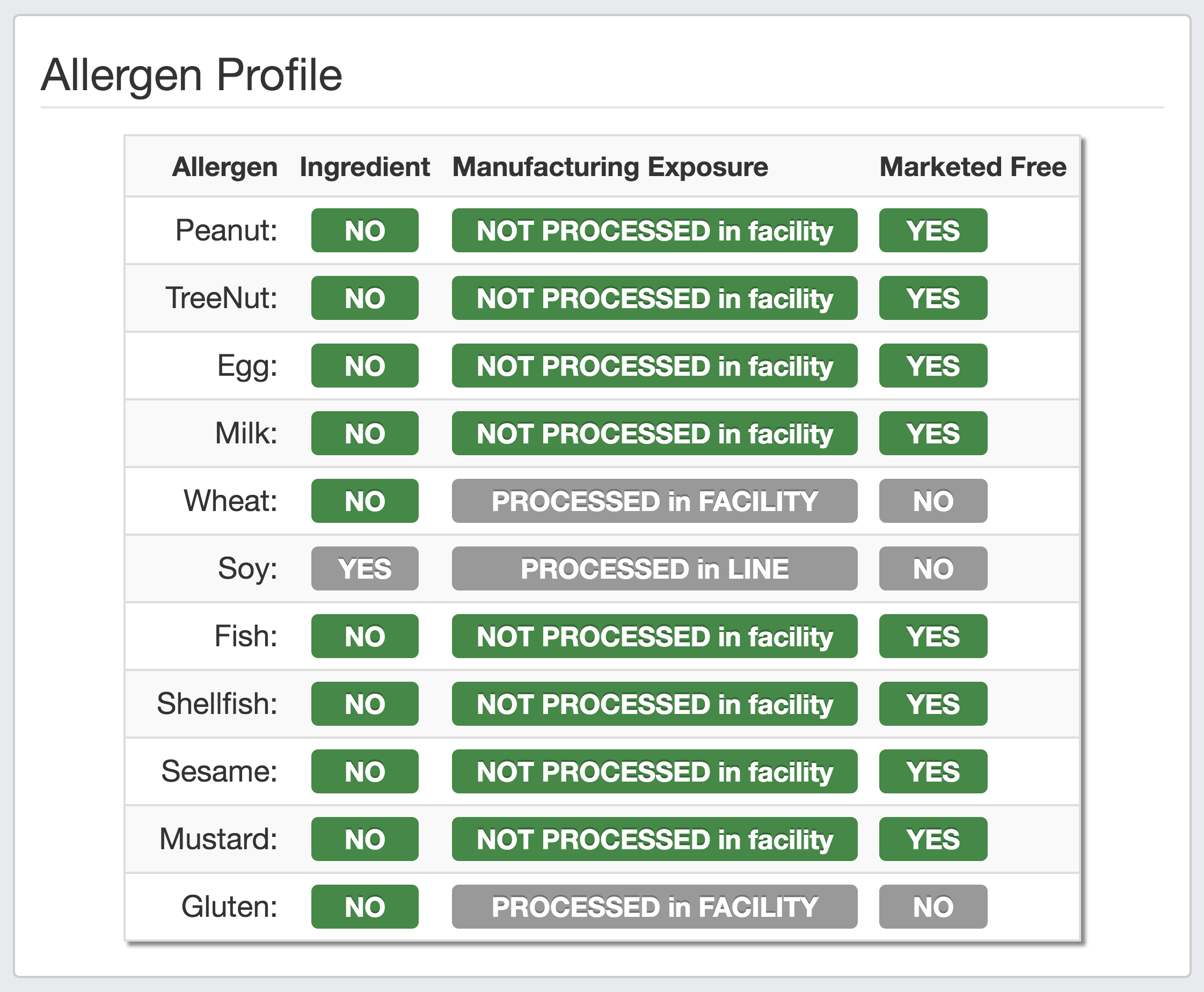 If you would like to see this depth of information for your favorite products, contact the manufacturer and ask them to join our partnership. (Joining the partnership is absolutely free!)
Click here for a ready made invitation… all you do is add the e-mail address of the manufacturer's consumer group or customer care manager.