We at SnackSafely.com are firm believers that every school should have a dedicated school nurse, one who is responsible for advocating for students with medical needs and disabilities as well as tending to the health needs of the general student population as needed throughout the school day.
In many cases, the school nurse is the only healthcare professional a child will have access to on a regular basis, and that access is especially important for a child with extraordinary healthcare needs.
Today is National School Nurse Day and we honor and celebrate efforts of the thousands of school nurses nationwide who serve on the front lines of keeping our kids safe.

Here follows a message from the President of the National Association of School Nurses, Nina Fekaris.
---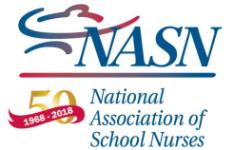 It is an incredible honor to recognize the contributions to student health and learning that school nurses make every day! Students across the country are able to fully access their education because of the interventions and actions performed by school nurses every day. This year we celebrate National School Nurse Day on May 9, 2018. Here are some of our "every day" contributions:
Leadership
School nurses advocate for students' health and safety at district and state policy levels. These policies include: safe medication storage and administration, evidence-based 'too-sick-for-school' guidelines, high nutritional standards for school meals, appropriate physical education and recess times, involvement in school attendance teams, and promotion of trauma informed care supporting students with mental health concerns.
Care Coordination
Students with chronic and acute health conditions can have their health needs met at school because of their school nurse's clinical assessment, judgment, and planning. School staff are trained by school nurses to understand emergency signs and symptoms, and when and how to get help, allowing maximum in-class time for students who require medical interventions.
Quality Improvement
Evidence-based practice is the foundation of school nursing interventions, and data collection is an important step in supporting positive student outcomes. School nurses are putting systems into place that will allow measurement of their actions as they strive to improve their practice.
Standards of Practice
Regardless of specific job duties, populations served, or specialty practices, NASN Standards of Practice provide essential foundational guidance for how a school nurse should act in their professional capacity. School nurses function within the scope of their practice to safeguard student health and safety and promote positive health outcomes.
Community – Public Health
School nurses combat school and community health barriers by partnering with stakeholders to advocate for policies and systems that promote healthy communities. They understand the social determinants of health and their impact upon our most vulnerable populations. School nurses work to mitigate those impacts to support student health and learning.
School nurses optimize student health and learning every day of the year. But, on National School Nurse Day, we take special time to celebrate and recognize the contributions that school nurses are making to the health and learning of our nation's 50 million children. On May 9th, I wish you a happy National School Nurse Day and, for all you do every day, thank you!
Nina Fekaris, MS, BSN, RN, NCSN
President, National Association of School Nurses