Rest assured, Outback Joe – the dummy caught in the Australian Outback without his epinephrine auto-injector – is safe and well thanks to the efforts of high school students from around the world participating in a drone competition held in Dalby, Queensland. And by "dummy", we mean the term literally.
According to their website, the purpose of the UAV Challenge is to demonstrate the utility of Unmanned Airborne Vehicles (UAVs) for civilian applications, particularly in those applications that will save the lives of people in the future. They do this by harnessing the ingenuity and passion of aero modellers, university students and high-school students around the world to develop novel and cost-effective solutions.

This leg – dubbed "Airborne Delivery" – is an unmanned aircraft competition for high-school students from around the world that demonstrates the use of radio-controlled aircraft with novel delivery mechanisms to deliver medical payloads.
The scenario students were given is as follows:
Outback Joe has made an emergency mobile phone call to advise that he is is suffering an allergic reaction and needs urgent medical assistance. Teams are invited to use an unmanned aircraft to deliver an Epipen (an Impact Monitor is used in the competition) as close as possible to Outback Joe so that he can treat his anaphylaxis immediately while medical aid travels to reach him. The UAV Controller (the team's pilot) will remotely control the aircraft.
The teams were tasked with flying their drones over hurdles approximately 12 feet tall, carefully dropping a payload containing an auto-injector, flying over a second hurdle and finally landing.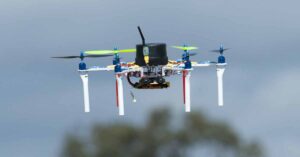 Given the ingenuity of these enterprising students, we fully expect emergency epinephrine delivery to rural areas to be transformed in years to come.
The UAV Challenge also includes a Medical Express leg, an unmanned aircraft competition that demonstrates the use of robotic aircraft for medical sample retrieval and medical delivery. This competition focuses on autonomy of unmanned aircraft and is open to adult teams from around the world.