While summer should be exciting, your search for allergy-friendly foods shouldn't be a rollercoaster ride. That's where we come in.
Aside from many new products from our existing partners, this update to the Safe Snack Guide and Allergence product screening service features many new products from six manufacturers that have been accepted into our Manufacturer Partnership.
Please welcome:

— have been crafting safe and scrumptious gluten-free baked good since 1991, also free from dairy, nuts, peanuts and now soy. Still family owned, they're loved the world over by those with celiac disease and on restricted diets. They've got you covered for breakfast, lunch and dinner with their line of breads, bagels, muffins, rolls, cookies and graham crackers.

— features a new line of allergy-friendly bakery items for you to enjoy! Their products are Top 8 allergen-free and gluten-free and are manufactured in a dedicated facility. Their Brownie Bites are packed in a twin pack and are the perfect grab-and-go decadent snack!

— have been baking top quality breads for over 30 years at their bakery located in Greenwood Heights, Brooklyn… a classic NYC melting pot neighborhood. The state-of-the-art bakery runs 365 days a year making delicious snacks peanut, tree nut, egg and milk-free snacks including pita chips, flatbread crisps and sticks.

— makes Awsum Snacks, a line of all natural, healthy, puffed snacks made from corn meal in a facility that is free of peanuts, tree nuts, eggs, sesame and mustard.

— founded in 2002 with a passion for and a dedication to creating all-natural vegan baked goods. A family-owned bakery, our products are handmade in small batches using only the finest 100% plant based ingredients. They offer a sinfully delicious assortment of cakes, cookies, breads, muffins, bars & squares.

— is a confectionery manufacturer of unique and great tasting candies. They feature a manufacturing facility free of peanuts, gluten and GMOs that is SQF 2 certified. Their products are 100% made in America and they pride themselves on great tasting quality products and innovation.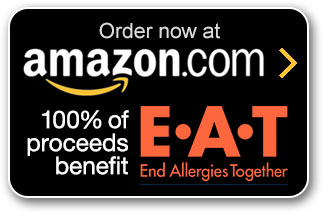 Remember, you can purchase many of the products listed in the Safe Snack Guide and Allergence from Amazon with just two clicks! All proceeds are donated to End Allergies Together to fund research into a cure for food allergy. Just click the product listing in the Safe Snack Guide or the Purchase on Amazon button in Allergence!
---
Please discard your current copy of the Guide and download the latest edition:
As always, we thank our readers and subscribers for their diligence and feedback which helps us keep the Safe Snack Guide up-to-date between product surveys. If you have not subscribed to our mailing list for updates and product advisories, we suggest you do so by completing the following form:
Subscribe to our weekly newsletter and never miss an important food allergy article! Unsubscribe at any time. We pledge never to share your address.