Halloween is a joyful time for many kids and a stressful time for others (and their families.) Children with disabilities face additional challenges when out and about trick-or-treating and there are two initiatives aimed at helping, so don't be confused.
The first is the Teal Pumpkin Project originated in 2012 by Becky Basalone — the director of FACET, a Tenessee-based food allergy group — and now embraced by the food allergy community and beyond. The initiative recognizes that children with food allergies cannot partake in traditional Halloween treats and encourages participants to place a teal-colored pumpkin on their property to indicate they offer non-food treats. Allergic Living features a wonderful interview with Becky which is well worth the read, and FARE sponsors a map where you can advertise your participation so trick-or-treaters coping with food allergies can find you.
The newest addition to Halloween tradition is the blue bucket. Carrying a blue bucket is intended to alert others that the participant (who may be a child or adult) is coping with Autistic Spectrum Disorder (ASD) and may be non-verbal or have difficulty communicating.
The tradition seems to have started with a 2018 Facebook post by Alicia Plumer: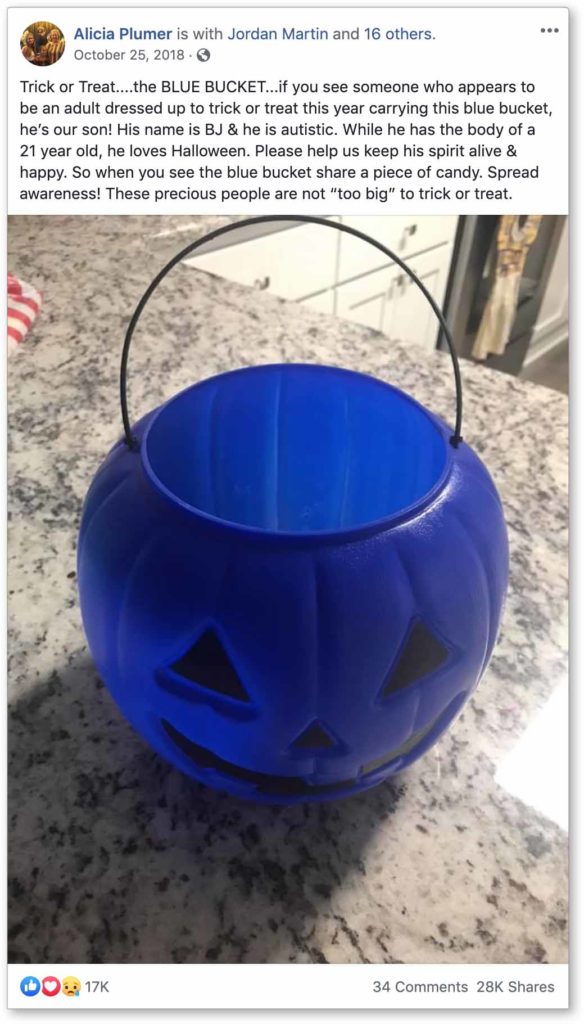 The fact that many blue buckets are pumpkin-shaped may lead some to confuse the initiative with the teal pumpkins embraced by the food allergy community.
Now that we've sorted that out, here's hoping your family enjoys a happy and stress-free (or at least stress-reduced) Halloween!
Sign and Share the Petition to Make Much Needed Changes to Allergy Labeling