No, it's not indigestion… love is in the air and that strange sensation you feel must be Cupid's arrow! That means it's time to find something sweet for your sweetie, that special someone that may need a bit extra care.
We're happy to announce the publication of this year's Valentine's Edition of the Safe Snack Guide, our extensive catalog of allergy-friendly foods relied upon by thousands of schools and tens of thousands of families nationwide to help keep allergens out of the classroom and the home. All are peanut and tree nut free with many free of the Top 8 allergens (peanuts, tree nuts, eggs, milk, soy, wheat, fish and crustacean shellfish.)
This edition has an entire section devoted to allergy-friendly Valentine's candy, chocolate, cookies, and gifts! Many are available at your local supermarket or can be ordered online.
School nurses, teachers and PTA organizations refer parents to the Guide to help them select items that are suitable for classrooms designated peanut and tree nut free or free of any combination of the Top 8 allergens, thus making snack time and party preparation significantly easier.
In addition to many new products from 120+ current SnackSafely.com Manufacturer Partnership members, this edition also includes products from three new members and a returning member. Please welcome:

Blake's Seed Based
— Blake's makes snacks that are healthy, taste great, and are allergy-friendly. Growing up as an athlete with a deathly nut allergy, Blake was frustrated with the lack of snacks available, so he started making bars in his kitchen using seeds instead of nuts and quickly realized that people with and without food allergies loved them. Their company motto is #SeedYourPassion.

Just The Cheese
— Their line of crunchy cheese snacks is made in their family-owned cheese factory in Reeseville, Wisconsin. All their cheese is handmade with 100% real Wisconsin cheese in a facility that is free of peanuts, tree nuts, eggs, soy, wheat, fish, crustacean shellfish, sesame, mustard and gluten.

All Y'alls Foods
— They get that you wanna sink your teeth into some tender, tasty jerky — but guess what? You don't need a cow to satisfy your craving! The best jerky on the planet is plant-based! They use certified whole non-GMO soybeans and all-natural ingredients to benefit your body in a way that's kinder to every body.

Gerbs
— Welcome back the company that makes allergy-friendly foods that you can feel good about feeding your family. Their mission is to provide delicious foods, trusted resources and a community that helps families affected by food allergies feel safe. See their extensive line of granola, salad mixes, dried fruit, coffee, grains, rice, seeds, and spices, all free of the 11 allergens we track!
With this edition, we also say goodbye to Squeaky Pops which has ceased operations, and Boulder Organics and the Safe+Fair Food Company which have opted out of our partnership. As we no longer have a relationship with these companies, we can no longer recommend their products.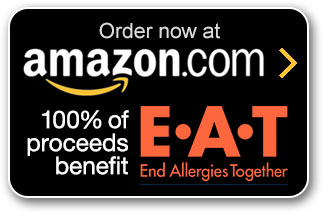 You can purchase many of the products listed in the Safe Snack Guide and our Allergence product screening service from Amazon with just two clicks! All proceeds are donated to End Allergies Together to fund research into a cure for food allergy. Just click the product listing in the Safe Snack Guide or the Purchase on Amazon button in Allergence.
---
Please discard your current copy of the Guide and download the latest revision:
Once again, we thank our readers and subscribers for their diligence and feedback which helps us keep the Safe Snack Guide up-to-date between product surveys. If you have not subscribed to our mailing list for updates and product advisories, we suggest you do so by completing the following form:
Subscribe to our weekly newsletter and never miss an important food allergy article! Unsubscribe at any time. We pledge never to share your address.