A family on vacation at a seaside town on the North Sea in England had enjoyed ice cream earlier in the day. Nine hours later, the trouble began for the mom who is allergic to honey.
Caitlin Fitzsimmons, 20, an army cadet with first aid training tells the story of her partner's mother:
The boys booked to go out but I was sleeping so I decided to stay in and they asked me to keep an eye on Mary-Ann because she looked a bit red. When I woke up she was in hives – her full body including her limbs and her chest.

She went for a shower to bring it down because she was really hot to the touch. Mary-Ann was really, really warm and when she came out the shower she fell flat unconscious on her face.

I put her in the recovery position and phoned an ambulance straight away. I said to them I think it is anaphylaxis because she was showing all the signs. Her eyes were everywhere and her pupils were massive.

She was dazed and didn't know her name, where she was or what happened.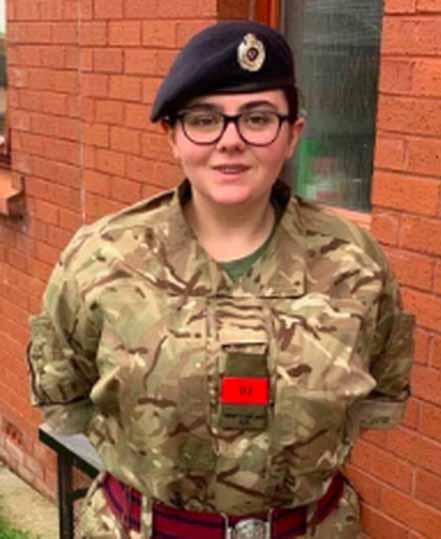 Her partner's mom lost consciousness twice more and Caitlin was about to start cardiopulmonary resuscitation (CPR).
Her story continues:
It was horrible for me to witness but the third time she fell unconscious was definitely the worst. She asked for water again and I let her sip it but this time she was out cold, I couldn't hear any breathing at all.

So I put her on to her back and luckily as I tilted her head back that's when she started breathing. Thankfully the paramedics soon turned up. I was worried at first and a bit scared but that was when I had to remember everything I listened to over the years.

You're not just listening to it because you are told to, you are listening to it because first aid training really does work. It wasn't nice to witness but I was glad that I was there because I feel if I didn't have the training I wouldn't have known what to do and probably would have started flapping. I would have panicked.

I was able to stay calm and when I couldn't hear her breathing I was preparing for the worst which was to do CPR. Which, if I didn't attend Cadets, I would never have known.

Someone can describe it over the phone to you but you will never actually know how to do it properly unless you've done it before.
Mary-Ann made a complete recovery and was extremely thankful. She said:
Had Caitlin not done her first aid training who knows what would have happened to me.

Maybe she would have panicked but she's obviously been very confident in herself and in what she was doing because she had done the training for it. I am very proud of the young lady she is.

I really can't thank her enough. There is not enough words that I can say, thank you just doesn't seem enough. I was really frightened that night. It was a really scary experience.
---
We congratulate Caitlin whose quick thinking, training and grit saved the day. She is a hero in every sense of the word.
Though she didn't have to use her CPR training in this instance, she knew precisely what to look for and what to do when Mary-Ann stopped breathing.
CPR is a life-saving skill that one hopes they will never have to use but can mean all the difference in a critical situation where a person has fallen unconscious and has stopped breathing.
Many organizations and municipalities nationwide provide first aid and CPR training. We encourage you to consider taking a (refresher) course regardless of your circumstances but especially if you have a family member that suffers from a condition that compromises their health, cognition or mobility.