24-year-old Madi Bond suffers from idiopathic anaphylaxis, a syndrome of recurrent anaphylaxis for which no consistent triggers can be determined despite an exhaustive search.
On returning to her home in Taunton, Somerset, she passed a road construction worksite and noticed a chemical smell despite her windows being rolled up.
While crossing a nearby bridge, she began experiencing the telltale symptoms of a reaction coming on. No stranger to anaphylaxis, Madi, who has many unidentified triggers, has suffered 23 anaphylactic reactions in a two-year span.
She said:
I remember seeing roadworks and, even though my windows were up, there was a chemical smell.

I don't know if they'd used paint stripper and there was a trigger in that, if it was the Tarmac, or what it was, but suddenly, I couldn't smell anything anymore, as my nasal passages were clogged.

I remember thinking, "I've got to get off this bridge, I know I'm going to have a reaction and I just hope it's not a bad one".'
After crossing the bridge, Madi pulled over and called her parents.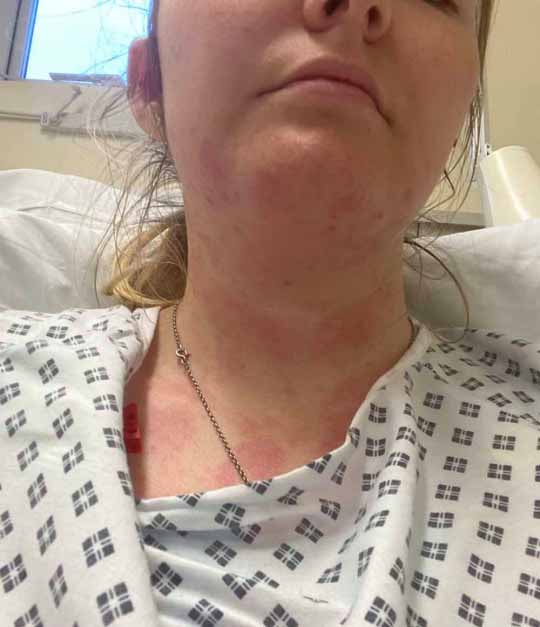 I said, "Mum, I need you to come and get me. I can't drive anymore. I'm not going to be ok for much longer."

Then I phoned my sister who said, "Madi, you're not actually answering questions now. You aren't making any sense. You're by yourself. You need your EpiPen now".
She administered her EpiPen and immediately called emergency services, but feeling dizzy and gasping for breath, she was unable to concentrate to give her location.
The quick-thinking EMS dispatcher asked if she had the what3words app on her phone, which she did.
The app divides the world into a grid of three-meter (yard) squares. Rather than provide complicated coordinates, the app gives you three simple words that identify your location to anyone else using the app.
Madi credits the app with saving her life by directing EMS to her location.
I am just so glad I had the app and would recommend everyone to get it.

If the ambulance hadn't found me so quickly, I really don't know what would have happened.
---
We at SnackSafely.com are grateful Madi is well and applaud the quick-thinking actions of the emergency services dispatcher.
While we don't know enough about the what3words app to recommend it, we do encourage all food allergy sufferers to consider installing tracking/location apps on their phones so that they can be found in case of a serious reaction during which they may not be thinking clearly.
And of course, always remember to take two epinephrine auto-injectors along everywhere… every time.
Sources: