Mondelēz Global LLC announced a voluntary recall Monday of two varieties of belVita Breakfast Sandwich products manufactured in the United States and sold nationwide due to undeclared peanuts. [Please see the announcement if you have belVita products in your home.]
This is not unusual as the FDA reported eight such nationwide recalls for various undeclared allergens in the last month alone. What is unusual is the company describes the actual cause of the peanut contamination in their announcement:
[…] due to the possibility that the products may contain undeclared peanut resulting from cross-contact on a single manufacturing line. People who have an allergy or severe sensitivity to peanut may risk serious or life-threatening allergic reactions by consuming these products.

— Mondelēz belVita recall statement
We presume the company failed to sanitize the manufacturing line properly after a run of their peanut butter variety, and when they ran a non-peanut-containing variety, boom… cross-contact.
That can happen when you mix allergens on the same line, so you would expect the company to issue a warning on the label of the non-peanut varieties, something like, "Manufactured on equipment that also processes peanuts".
But that's not the case. Here is the ingredient listing from the box of one of the BelVita varieties being recalled. Note there is no mention of peanuts: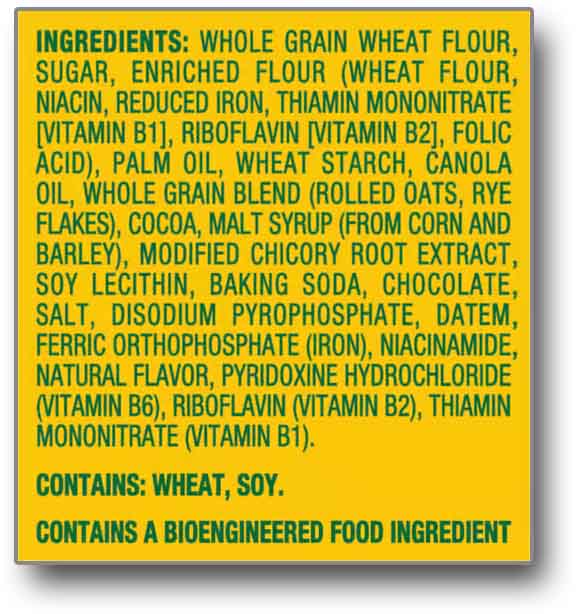 But wait… aren't they required to issue such a warning? You would think so, but the answer is a resounding "No" — and that's the point.
Those precautionary allergen labeling (PAL) warnings like "May contain…" or "Manufactured in a facility that also processes…" are entirely voluntary and not mandated by the FDA. Some companies include them, some don't, and some will warn for one allergen and not another. In this case, Mondelēz didn't bother.
This brings us to the point of this article: PAL warnings are unreliable. They can warn you when a product may not be safe from your allergen of concern but you can't rely on them to determine whether a product is safe. For that, you need to contact the manufacturer directly and ask them specific questions like, "Is this product made on the same line/in the same facility as peanuts are processed?"
---
Our free Allergence product screening service can help you with this. We work directly with over 180 manufacturers who disclose this information to us in exchange for listings in Allergence and our guides.
We also urge you to sign the petition to Congress requesting specific changes to US regulations that will make allergen labeling much safer and less confusing for the allergic community.