Leah Williams, 27, has been coping with a severe allergy to peanuts for much of her life and is prone to anaphylaxis. She broke out in hives during a previous flight when a passenger opened a pack of peanuts near her.
Upon boarding Eurowings home from Düsseldorf to London, she asked the crew to announce her peanut allergy and not to serve peanuts on the 80-minute flight.
Earlier that day, she had flown from London to Düsseldorf via the same airline and said the cabin crew on the earlier flight were happy to announce her allergy and refrain from serving peanuts.
But on the return leg, she claims the crew dismissed her concerns, saying a flight attendant told her it was against the airline's policy. Leaving her with no other option, she bought all 48 packets of peanuts for £3 each so they would not be served. The cost, nearly £150 ($190), was three times the airfare.
Said Leah:
The stewards looked at me blankly like I was crazy and said, 'But there is a lot, we'll have to count them all.' I said, 'Please do count them and I will pay for them all, seeing as you have left me with no choice.'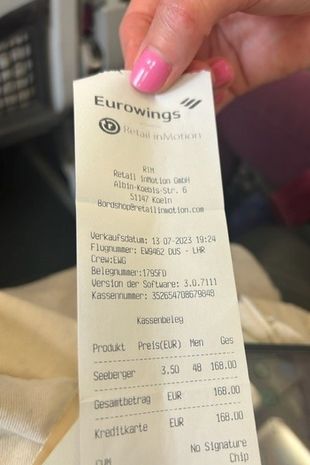 Williams is demanding a refund for the nuts, which remained with the staff in the galley. She added: "Eurowings should be ashamed of how they handled this situation and for the way they made me feel."
Several carriers serving the same route, including British Air, Ryanair, and easyJet, have stopped serving nuts and will ask passengers to avoid eating them when an allergic passenger is on board.
Eurowings said that since passengers can bring their own food aboard, they could not guarantee their flights would be free of trigger allergens. A spokesperson for the airline said: "Our medically trained cabin crew always has access to medication to provide emergency care in the event of an allergic shock."
Said Williams:
Ultimately, the best outcome, and my aim for this, is for Eurowings to change or update their policy and not sell peanuts on their flight.
A Eurowings representative told Insider: "We are very sorry that the flight with us did not go as smoothly as desired and we regret any inconvenience this has caused Leah Williams."
---
We at SnackSafely.com have reported on many food allergy catastrophes aboard flights in recent years, including 14-year-old Poppy Jones, who suffered anaphylaxis aboard a flight from Antigua to London, Rebecca Hanau, who suffered anaphylaxis on a flight from Wisconsin to Atlanta during which the flight crew was not able to open the emergency medical kit, and Tricia Powell who almost perished on a flight returning from Disney World.
We urge all airlines to stop playing Russian Roulette with the health of their allergic passengers and take adequate precautions to help assure their safety during a flight.
No one needs to have nuts served aboard a flight when they can trigger a serious reaction.
From Concern to Confidence: Overcoming Food Allergies for a Successful Back-to-School Season