The Halloween 2013 edition of the Guide featuring an additional page of peanut, tree nut and egg-free treats perfect for trick-or-treat and nut-free classroom parties. Coupons too!
FARE has issued an advisory regarding the effect of the current partial shutdown of the Federal Government on those with food allergies.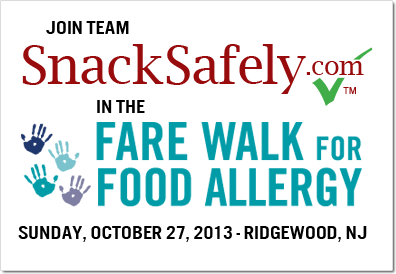 Show your love for SnackSafely.com by making a donation to the FARE Walk for Food Allergy and we'll send you a small token of our appreciation!
We at SnackSafely.com are celebrating a pair of wonderful milestones that you, our readers, have made possible.
Kids with Food Allergies Foundation (KFA) has published a guide entitled "Potential Food allergens in Preschool and School Activities".
A preclinical feasibility study has shown that epinephrine delivered nasally (without needles) was absorbed into the bloodstream with similar effectiveness as epinephrine delivered traditionally via auto-injector.
After passing in the House, FARE reports the School Access to Emergency Epinephrine Act has been introduced in the Senate.
Please note that we have removed one item from the Safe Snack Guide and have added a number of products from new partners to our SnackSafely.com Manufacturer's Partnership Initiative.
An excellent opinion piece by Curtis Sittenfeld entitled 'Epipens for All' was published in today's New York Times Sunday Review.
The parents of Natalie Giorgi have established a foundation in her memory.