Manufacturers Join SnackSafely.com in Drive for Greater Transparency in Food Allergen Disclosures
Tootsie Roll Industries, Enjoy Life Foods among 20 manufacturers to join program's launch
New York, NY (PRWEB) February 11, 2014
The publisher of the Safe Snack Guide, a snack list used by thousands of schools, camps, youth sports leagues, and scouting groups nationwide to help implement nut-free policies, is now working directly with food manufacturers to provide greater transparency regarding the potential for allergens in their products.
Manufacturers participating in the SnackSafely.com program access a proprietary portal to submit information about their products, including processing information for 11 allergens: peanuts, tree nuts, eggs, milk, soy, wheat, fish and shellfish (the "top 8") as well as sesame, mustard, and gluten.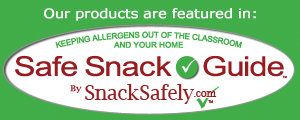 Products that qualify earn a listing in the Safe Snack Guide, and their manufacturers are authorized to display the SnackSafely.com Manufacturer Badge on their websites. The data collected will also be made available to consumers via SnackSafely.com's forthcoming apps and publications.
For an estimated 13 million Americans with food allergies, today's detailed labeling helps them avoid common allergens included as ingredients in food products. However, labeling laws do not require manufacturers to disclose the potential sources of cross-contamination with these allergens during the manufacturing process.
Warnings such as "manufactured in a facility that also processes peanuts" are entirely voluntary, and there are no standards for when they should be used or how they should be worded. This gap in labeling and disclosure often leaves allergy-conscious consumers confused and exposed to potentially dangerous traces of allergens.
"A growing number of schools are implementing nut-free classroom policies, placing the onus on parents to find suitable snacks," said SnackSafely.com Founder, Debra Bloom. "The Guide eliminates the guesswork for consumers while extending positive exposure for participating manufacturers' products."
"Our brands have been trusted by consumers since 1896 and we always seek opportunities to build that trust", remarked Ellen R. Gordon, President and Chief Operating Officer of Tootsie Roll Industries. "We participate in the SnackSafely.com program because all of our products are free of peanuts and tree nuts. The program provides an effective way to engage the allergic community."
Joel Warady, Chief Sales & Marketing Officer of Enjoy Life Foods said, "Our mission to create great tasting, allergy-friendly snacks is complemented by SnackSafely.com's mission to provide greater disclosure to our potential customers. Our listings in the Safe Snack Guide help introduce Enjoy Life's products and our strict allergen-controls to an ever growing audience of consumers that take their allergy concerns seriously."
"We're pleased leading manufacturers of the food industry are joining us in our efforts to promote greater transparency for consumers with severe food allergies," said Dave Bloom, CEO of SnackSafely.com. "Partnering with trusted and recognized leaders in the Free From sector like Enjoy Life Foods is crucial to the success of this effort, as is the participation of traditional manufacturers of iconic brands such as Tootsie Roll Industries. Together, we're working to arm consumers with the information they need to make better decisions for the safety of their families."
Participation in the program is absolutely free, and all manufacturers that place an emphasis on responsible practices are encouraged to inquire at mfg@snacksafely.com. A listing of the program's participating manufacturers can be found at: snacksafely.com/mfg.
About SnackSafely.com
SnackSafely.com provides straightforward, actionable information to improve the lives of the 5.9 million children in the US suffering with food allergies. Their primary publication, the Safe Snack Guide, is downloaded over 30,000 times each month and is relied on by tens of thousands of parents, teachers, and school nurses nationwide to help keep peanuts, tree nuts and eggs out of the classroom and the home.
About Enjoy Life Foods
Enjoy Life Foods is the leading brand in the Free From category. All products are gluten-free and free from the top 8 allergens (NO: wheat, dairy, peanuts, tree nuts, egg, soy, fish and shellfish) making them safe for the millions of individuals who live with food intolerances.
About Tootsie Roll Industries
Tootsie Roll Industries manufactures and sells some of the world's most popular confectionary brands. The Chicago-based firm is one of the country's largest candy companies, with operations throughout North America and distribution channels in more than 75 countries.
Press Contact
Dave Bloom, CEO
SnackSafely.com, Inc
(347) 915-4777
E-mail