As you probably know, Sanofi has recalled ALL Auvi-Q and Allerject brand epinephrine auto-injectors from the US and Canadian markets. If you own these brands, it is imperative that you read the press release and replace them with alternatives.
There are two other brands of auto-injectors available in the US: EpiPen®/EpiPen Jr® by Mylan, and Adrenaclick® (also sold as a generic) by Amedra.
Though Sanofi has pledged to reimburse consumers for the switch to another brand, consumers will have to purchase new auto-injectors, then seek reimbursement from the company. Unfortunately, the cost of a single pair of auto-injectors can run into hundreds of dollars and will likely be a financial burden to many of our readers.
Both alternative brands have offers to help defray the cost of purchasing auto-injectors.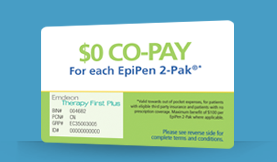 Mylan's "$0 Copay" card can be used for up to three 2-packs of Epipen brand auto-injectors. The program offers up to a maximum benefit of $100 per pack but is only available to people with commercial (i.e. not government provided) insurance. Click here for information on the Mylan site.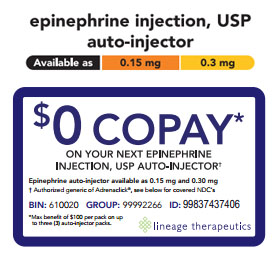 Amedra offers a similar card that can be used for up to three 2-packs of Adrenaclick auto-injectors. This program also offers up to a maximum benefit of $100 per pack but is also available to "cash paying" consumers (i.e. consumers without insurance or without a co-pay benefit.) Click here for more information on the Adrenaclick site.
We understand how difficult dealing the recall will be for our readers, but we remind you that ALL Auvi-Q and Allerject brand auto-injectors must be replaced as soon as possible. We also remind you that each person that has been prescribed epinephrine should always carry two auto-injectors with them at all times in case the first malfunctions or does not provide a sufficient dose to halt the symptoms of anaphylaxis.