If you're reading this on our blog, we don't have to tell you how dangerous food allergies are or how the incidence of food allergy is soaring, now estimated to affect 17 million Americans, many of which are children.
Though progress is being made on a number of therapies, what you may not know is that important research is being conducted at a snail's pace or not at all due to the gap in funding, estimated at over $400 million each year.
Now – with Food Allergy Awareness Month approaching – it's time to take action by accepting End Allergies Together's DoYour17 challenge which is already underway.
In honor of those 17 million Americans suffering with food allergy, start your own fundraising campaign by pledging to do 17 of anything and have your friends, family and coworkers sponsor your efforts. Will you walk 17 blocks? Watch 17 reruns of "Gilligan's Island"? Eat 17 hotdogs? Dance the Harlem Shuffle 17 times? Give your mom 17 kisses?
Use your imagination, create your fundraising page, and get out there. Be sure to tweet your progress to the world using hashtags #DoYour17 and #EndAllergies.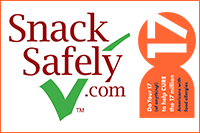 If you're too busy to fundraise yourself, support SnackSafely.com's 17 Resources effort by donating on our page. Through the month of May, we'll pick 17 food allergy related blogs and websites that inspire us and feature them with articles on SnackSafely.com. Look for articles tagged with "DoYour17" on our site beginning next week and show your love by pledging on our page.
Here's a short video detailing the DoYour17 campaign:
Whatever you do, please participate in this effort to help close the funding gap and accelerate research into a cure.
Important Links: