As you may know, Kellogg's quietly announced they will begin adding peanut flour to their Keebler and Austin cracker lines that were previously assumed to be "safe" by many people with peanut allergies. The plan will put people with peanut allergy who consume these snacks – many of whom are children in school and daycare settings – in jeopardy if they or their caretakers fail to notice the change in the ingredient listing on the label.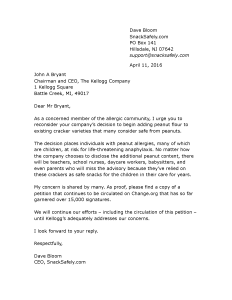 We initiated a petition on Change.org the following day urging Kellogg's to reconsider, and to date that petition has garnered over 15,000 signatures. This morning, we sent a copy of the petition along with the signatures to John A Bryant, Chairman and CEO of the Kellogg Company. Click here to see the cover letter.
Here's a video with an update:
We hope to draw more attention to this issue but we need your help! Please take a moment to:
Tweet your concerns to @KelloggsUS using the hashtag #NoPeanutFlour
E-mail your concerns to the Kellogg's Consumer Page;
Sign the petition on Change.org;
Voice your concerns via Kellogg's Consumer Line: 1-800-962-1413;
Share this article with your friends, family and local media using the buttons below.
You can also retweet the ready made message below to add your voice:
Over 15,000 signatures on our petition to @KelloggsUS for #NoPeanutFlour! Here's the video: https://t.co/1PgbDG6Ycz pic.twitter.com/ik5Tof3CFI

— SnackSafely.com (@SnackSafely) April 12, 2016
Let's keep the focus on Kellogg's until they reconsider their plans to introduce an allergen into products where it is not expected and can cause catastrophic consequences. Speak out!
Other articles related to Kellogg's Action: