Ready or not, it's that time already… time to start planning how to keep your children busy during the summer vacation. It's tough enough finding ways to entertain the kids, but throw in concerns about allergies or asthma and it becomes a monumental task.
Unless you know who to turn to.
Camp TAG provides a safe place for children with food allergies, eosinophilic disorders and asthma and their non-allergic siblings to have fun – with no worries about allergic reactions – and meet other children who share similar experiences. It is a bonding and empowering week for all campers, including parents. Camp TAG is 95% fun and 5% educational, with age-appropriate activities and games each day on food allergies, anaphylaxis, nutrition, the emotional impact of living with food allergies (for children with food allergies and their families), and how to stay safe at school and at home. The curriculum was designed and reviewed by FAACT's Medical Advisory Board.

Activities each day include camp games, ropes course, climbing tower, canoeing, arts and crafts, music, swimming, pedal carts, miniature golf, Ga-ga, archery, mine chutes, and field sports such as soccer, basketball, baseball, flag football, lacrosse, and tennis.
This ONE-WEEK, DAY CAMP is designed specifically for children ages 4-12. For camp activities, children are grouped by ages to ensure experiences are age-appropriate:
Ages 4-6
Ages 7-9
Ages 10-12
This year, camps will be held in:
Eleanor Garrow-Holding, CEO of Food Allergy and Anaphylaxis Connection Team (FAACT) and Founder of Camp TAG says:
Camp TAG was created because I wanted to send my son, Thomas, to camp, but worried about a reaction occurring during the camp day. I researched local camps, and none of them were able to accommodate his needs. As I continued my research, I found that there weren't any types of specialized food allergy camps for kids anywhere in the country. I then decided to start our own camp. Camp TAG (The Allergy Gang) was actually named after my children. TAG stands for Thomas Andrew and Anne Garrow, and they share the "A" as they share their life experiences of managing food allergies on a daily basis. I also wanted the camp to include siblings because I have one child with and one child without food allergies. Siblings are also just as affected and advocate just as much for their affected siblings. I wanted my children, along with all of your children, to enjoy the camp experience together.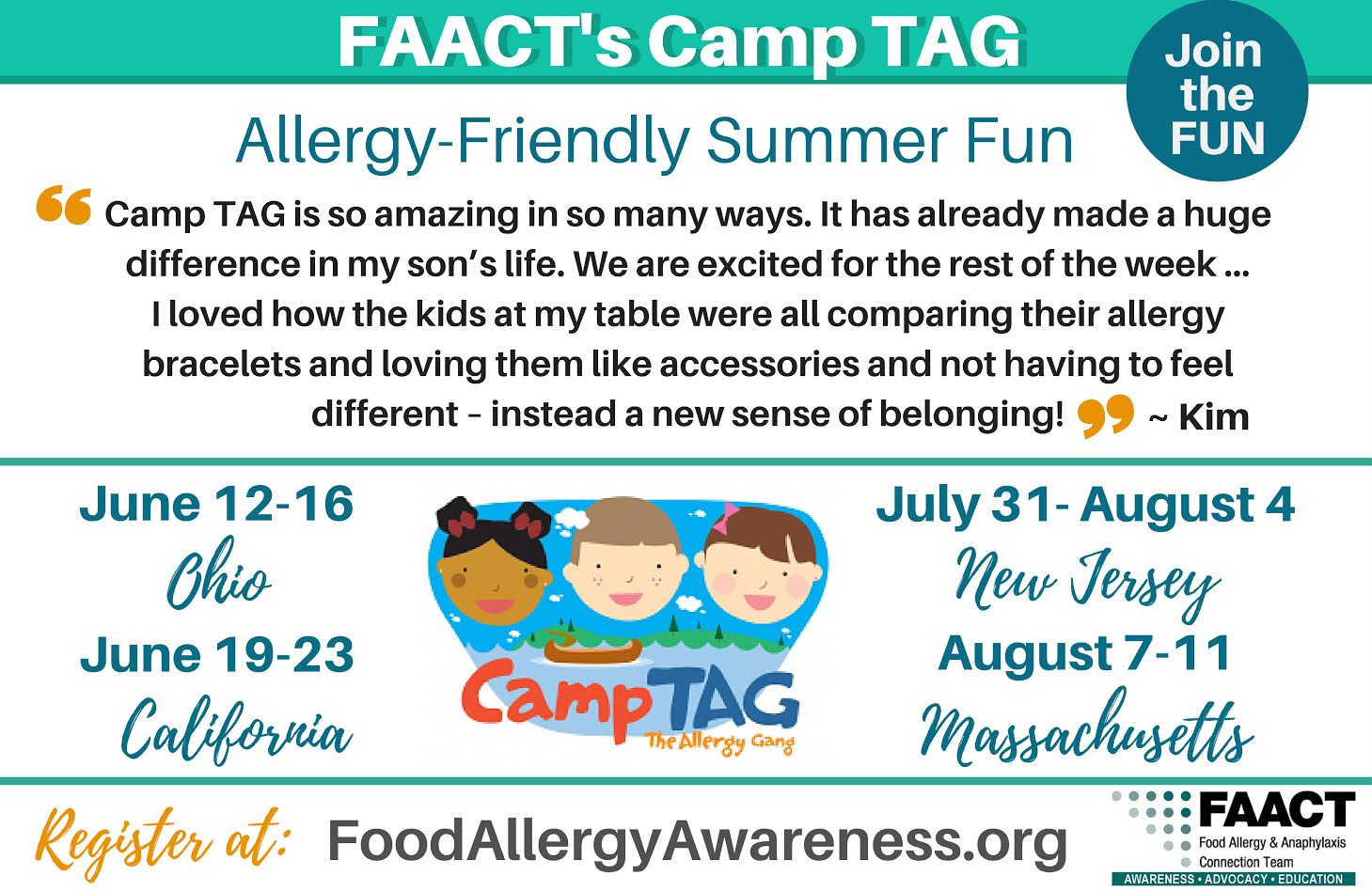 Click here to find out more about Camp TAG.