Yesterday, we posted an advisory regarding the recall of many store brands of dark chocolate manufactured by GKI Foods due to undeclared milk. This wasn't the first such recall and it most certainly won't be the last.
But why is dark chocolate so problematic? Well, the US Food and Drug Administration (FDA) posted results from a study back in 2015 regarding undeclared milk in dark chocolate products and the results were terrifying: Of the 94 dark chocolate bars tested, only only six listed milk as an ingredient. When testing the remaining 88 bars that did not list milk as an ingredient, the FDA found that 51 of them actually did contain milk.

To quote the FDA, here's the reason why:
"In part, that's because milk can get into a dark chocolate product even when it is not added as an ingredient. Most dark chocolate is produced on equipment that is also used to produce milk chocolate. In these cases, it is possible that traces of milk may inadvertently wind up in the dark chocolate."
Their statement also sheds light on why traces of other allergens frequently added to chocolate – such as peanuts and tree nuts – often contaminate plain dark chocolate products.
But didn't the bars that were found to contain milk list "may contain" type warnings on their packaging? Again, to quote the FDA:
"You shouldn't assume that dark chocolate contains no milk if the label does not mention it at all. Milk-allergic consumers should be aware that 33% of the dark chocolates with no mention of milk anywhere on the label were, in fact, found to contain milk."
It's especially confusing because you may have thought the FDA
requires
those
"may contain…"
,
"manufactured on equipment shared with…"
, and
"processed in a plant that also processes…"
type statements when there is a chance of cross-contact. But no,
those warnings are entirely voluntary
leaving manufacturers to decide whether to include them on the label.
And remember, just because the label might display a warning for an allergen you are not concerned with but has no such statement for your allergen of concern,
does NOT mean the product is safe from that allergen
.
[See our article When a Manufacturer Says 'Trust Us' Regarding Allergens to find out how manufacturers make the determination whether to add an allergen warning or not.]
How can we help? SnackSafely.com
works directly with more than 75 manufacturers
who agree to disclose much more information about their manufacturing processes regarding 11 allergens than the FDA requires. We then provide this information via our
Safe Snack Guide
and
Allergence product screening service
to the consumer.
Here's an example of the allergen processing information for a dark chocolate product we provide in Allergence: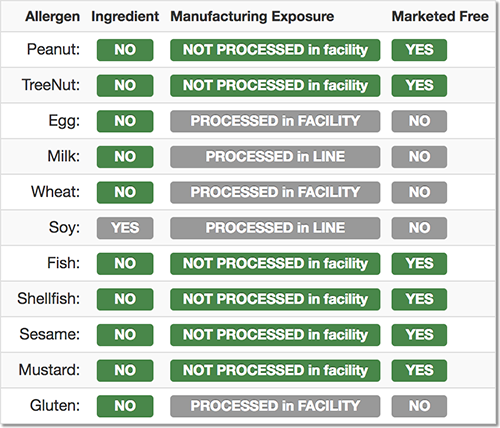 We provide similar processing information sourced directly from our manufacturer partners for over 1000 products in over 40 food categories, so you can find products that meet your requirements with full knowledge of how they were manufactured. 
Best of all, there's no charge to the manufacturer or you the consumer
.
Until the FDA – which has obviously been aware of the problem for years – takes steps to fix their broken labeling requirements, the consumer concerned with food allergies must take extra precautions to assure the products they are buying are indeed safe for consumption.