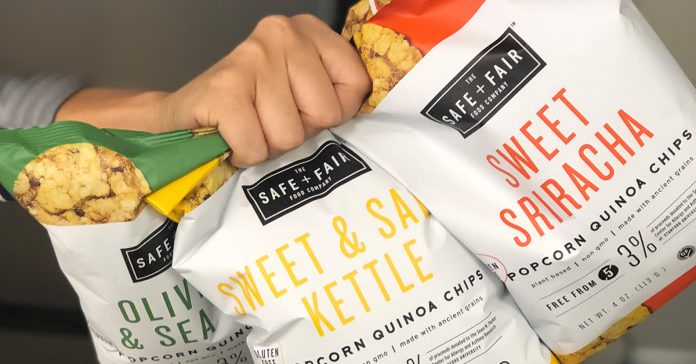 The Safe + Fair Food Company, a maker of nut-free snacks, meals and mixes, has just released a new line of gluten-free chips that are also free from peanuts, tree nuts, egg and other top allergens. These Popcorn Quinoa Chips come in three varieties–Olive Oil & Sea Salt, Sweet & Salty Kettle and Sweet Sriracha–and you can purchase them online at SAFEANDFAIR.COM. First-time SAFE + FAIR customers can use the promo code SNACKSAFELY30 to get an additional 30% off.
Each of SAFE + FAIR's Popcorn Quinoa Chips are made with yellow corn, quinoa, flax seeds, sunflower seeds and chia seeds for a delicious and healthy mix to satisfy your cravings in an allergy-friendly way. They are gluten-free, non-GMO, kosher, vegan and have no artificial ingredients, preservatives, high fructose corn syrup, MSG or trans fat. They're also baked and puffed, not fried, which makes for a guilt-free snack.
As with all SAFE + FAIR products, 3% of proceeds are donated to allergy research at the Sean N. Parker Center for Allergy & Asthma Research at Stanford University.
"Up to now, we have offered snacks, meals and mixes that are free from peanuts and tree nuts," says SAFE + FAIR CEO Will Holsworth, "but we have always had the goal of addressing a broader array of food-allergic communities." SAFE + FAIR is readying new lines of Pea Protein Chips that are also free from gluten, nuts and egg, as well as brownie mixes and granolas that are Top 8 Free.
Each 4oz sharing bag of Popcorn Quinoa Chips costs $2.99, or you can purchase a bundle of all three varieties for $7.99. Visit SAFE + FAIR today!