As we have previously reported, two immunotherapies have completed their Phase III clinical trials and stand ready to be approved for use by the FDA: Viaskin Peanut – administered via a patch that is applied to the skin – and AR101 – the oral immunotherapy (OIT) candidate that is added to food and consumed. Both work by introducing small quantities of the allergen over time, thus desensitizing the patient.
These therapies will join private practice peanut OIT, where allergists currently treat patients with their own formulations of peanut protein.
Last week, the Institute for Clinical and Economic Review (ICER) – an independent non-profit research institute that analyzes the evidence on the effectiveness and value of drugs and other medical services – announced they will initiate a review of the value and effectiveness of Viaskin Peanut, AR101, and private practice peanut OIT.

ICER has circulated a "Draft Scoping Document" outlining their planned review and has requested comments from all interested parties including stakeholders by December 12, 2018. The objective is to review the health and economic outcomes of the therapies in children 4-17 years of age.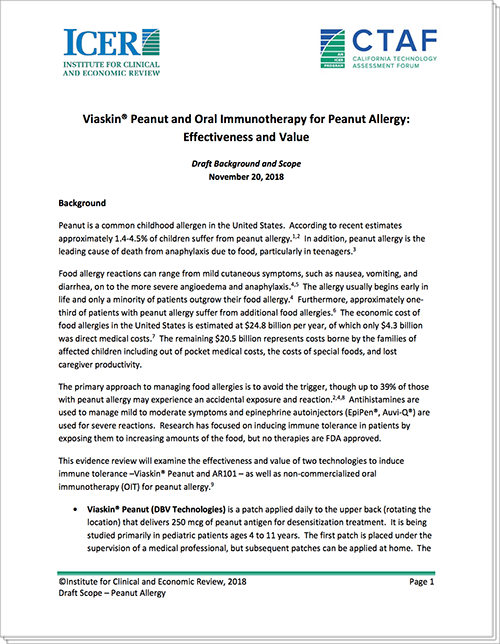 The key measures of clinical benefit will include:
Anaphylaxis
Angioedema (swelling)
Urticaria (hives)
Bronchospasm/wheezing
Use of epinephrine
Tolerance to challenge with peanut allergen
Quality of life
Expanded activities for child
Patient anxiety/depression
Parental time off from work
Parental anxiety
ER / Hospitalization for peanut allergy reactions
Death
On June 11, 2019, ICER's report will be the subject of a meeting of the California Technology Assessment Forum (CTAF), one of ICER's three independent evidence appraisal committees.