We made a list and checked it twice! The Holiday 2018 Edition of the Safe Snack Guide is here with an entire section devoted to allergy-friendly Christmas and Chanukkah treats! All are peanut and tree nut free with an entire page dedicated to Top 8 allergen-free goodies for your special someone.
Whether you're searching for seasonal gifts, festive products to serve at your home or classroom celebration, or baking supplies to make your own holiday creation, the Safe Snack Guide and the Allergence product screening service are your go-to resources!

With this issue, we're happy to announce the addition of many new products from four new members to our Manufacturer Partnership. Please welcome:
FreeYumm – produces delicious school friendly bars and cookies that are always free from Big 8+ Major Allergens, GMO's, and Gluten made in their dedicated bakery. Mom's will love the ingredients and kids will love the flavor! Guaranteed Yummy, FreeYumm is the perfect snack for school lunches, playdates, & game days.
Boulder Organic – Their mission? That's a no-brainer. They make soup better. Much better. Crazy better. Shout-it-from-the-rooftops better. It's time for a wake-up call for the way we eat, and they're here to deliciously smack some sense into our society of un-wellbeing. They use real food to provoke real change by the spoonful.
Gem City Fine Foods – offers a variety of high quality, delicious and convenient ready-to-serve certified gluten free desserts. All Gem City Fine Foods desserts are made without artificial flavors, colors or preservatives in a dedicated gluten- and nut-free facility, and are certified gluten free by the Gluten Free Certification Organization (GFCO).
Squeaky Pops –  All of our children and all of us deserve appropriately portioned, nutritious, low sugar and real ingredient snacks. And because you're busy living your life, they're taking the middle man out of the equation, delivering our snacks right to your doorstep with one click.  So toss out those Cheddar Bunnies and get poppin' with Squeaky Pops!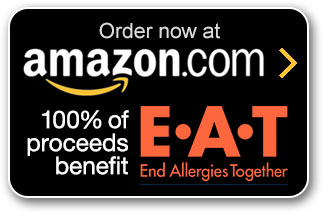 Remember, you can now purchase many of the products listed in the Safe Snack Guide and Allergence from Amazon with just two clicks! All proceeds are donated to
End Allergies Together
to fund research into a cure for food allergy. Just click the product listing in the Safe Snack Guide or the
Purchase on Amazon
button in Allergence.
---
Please discard your current copy of the Guide and download the latest revision:
Once again, we thank our readers and subscribers for their diligence and feedback which helps us keep the Safe Snack Guide up-to-date between product surveys. If you have not subscribed to our mailing list for updates and product advisories, we suggest you do so by completing the following form:
Subscribe to our weekly newsletter and never miss an important food allergy article! Unsubscribe at any time. We pledge never to share your address.